IronMind: Black Friday Sale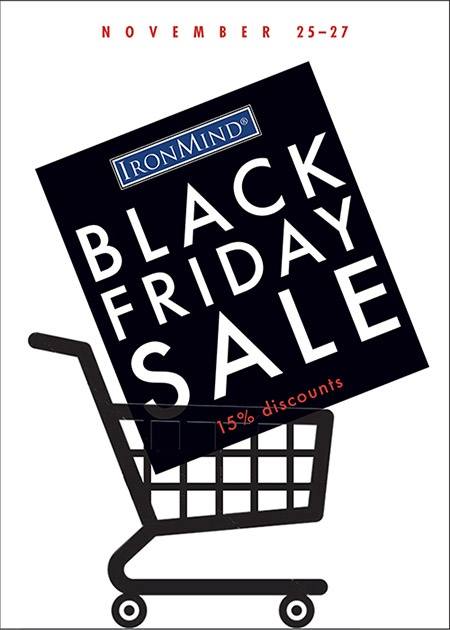 From November 25 through November 27, get a 15% discount on all full-priced items, an opportunity for big savings on that IronMind equipment you've been eyeing: From IronMind mobile training centers, like the Vulcan Racks or ALight, and the Five Star Flat Bench, your home gym prospects never looked so good.

Give your training a boost with posters, a Headstrap Fit for Hercules, Tough-As-Nails Sandbag, Apollon's Axle, or SUPER SQUATS Hip Belt, and because there's always stuff to carry, this is the time to get a Tough-As-Nails Gym Bag or a Quarter-Ton Trucker.

And you need to fill in your Captains of Crush, Zenith, IMTUG and Left-Turn gripper collection, pick up a new pair of Strong-Enough Lifting Straps, or stock up on JUST PROTEIN, this is time to do it.

If you'd like to browse, follow this link the 2017 IronMind catalog or go straight to the IronMind e-store.

Please enter FRIDAY in the keycode box at View Basket in the IronMind e-store; offer excludes packages, sets, and kits that already have discounted pricing, and York equipment.

                                        ###



Follow IronMind on Twitter and on Facebook.


Want to talk strength? Visit the IronMind Forum: Strongman, grip, Highland Games, Olympic lifting, stones and more.