Haffþór Júlíusson Björnsson wins Iceland's OK Budar Strongman Contest
Continuing to make a big splash in the strongman world, Icelandic giant Haffþór Júlíusson Björnsson "won five out of six events at last weekend's OK Budar strongman contest on the South Coast of Iceland," Hjalti Arnason reported to IronMind®.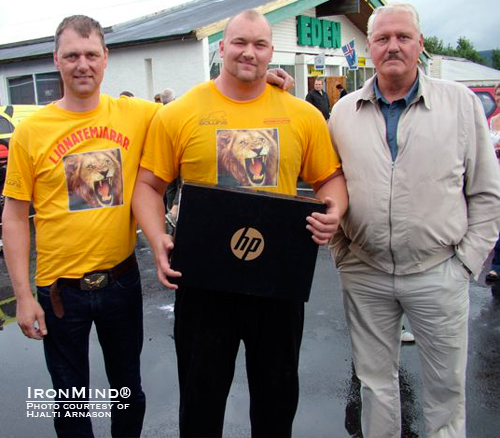 Height runs in his family: Haffþór (center), who stands 205 cm tall, is flanked by his 203-mm tall father (left) and his 207-cm grandfather (right). Incidentally that HP laptop Haffþór is holding was his prize for winning the OK Budar Strongman Championships in Iceland last weekend. IronMind® | Photo courtesy of Hjalti Arnason.


The events were: tire flip, deadlift for reps (260 kg), overhead medley and a weight for height medley (2 16-kg kettlebells, a beer keg and a 56-lb. weight). Georg Ögmundsson was second and Ari Gunnarsson third.

Haffþór Júlíusson Björnsson "is getting better every day," Arnason said. "He is now focusing on the Jon Pall Sigmarsson Classic," which will be held at the 2010 Icelandic Fitness and Health Expo, November 19 - 21.


Want to talk strength? Join the IronMind® Forum!

You can also follow IronMind® on Twitter.