Daniel Splendoria Certifies on the IronMind Red Nail
He's on a roll in the world of lower arm strength: adding to his laurels, Daniel Splendoria has just been certified on the IronMind Red Nail, a very nice addition to his certification on the Captains of Crush No. 3 gripper earlier this year.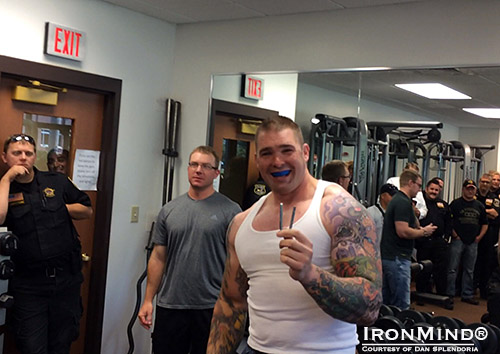 Dan Splendoria, surrounded by his "work family," has added a certification on the IronMind Red Nail to the one he already earned on the Captains of Crush No. 3 gripper. Next stop: the Captains of Crush No. 3.5 gripper. IronMind® | Courtesy of Dan Splendoria




Writing to IronMind's Chris Sheehan and Randall Strossen, Dan said, "I just wanted to quick thank you both for all your help in my certification process. Your company has been a huge part of my life for over a decade. Starting with the Thomas Inch Dumbbell, then to the Captains of Crush, and now the Red Nail.

"I learned about MILO and progressive resistance, 20-rep squats [SUPER SQUATS], and so much more from IronMind. This completely changed the way I train and attack my challenges.

"I wanted to thank my judge Sean Pedersen for taking the time to come out to McHenry County Jail to witness my certification. I take great pride in my fitness as well as my job. It was a great honor to be able to combine them both. 



"My father, Anthony Splendoria, was the hardest working man I ever knew. He passed away unexpectedly on April 11th last year. This Red Nail Certification is so special to me because it allows me to carry on his legacy and teach my children (Rocco, Stella, and Scarlet) that anything is possible through hard work. 



"I also wanted to add a huge thank you to my work family: Sheriff Nygren, Undersheriff Zinke, Chief Sedlock, Deputy Chief Firman, all the Lieutenants, Sergeants, fellow Officers, and Woodstock Fire Department for attending and all their support. I am humbled and so proud to be able to share this moment with all of you.



"I look forward to talking to you again for my Captains of Crush 3.5 Certification."

Many thanks, Sean, and congratulations, Dan—your name has been added to the Red Nail Roster!

###



Want to talk strength? Join the IronMind Forum.

You can also follow IronMind on Twitter and on Facebook.