CoC Silver Bullet: Elizabeth Horne Sets Women's World Record
When IronMind officially opened the Captains of Crush (CoC) Silver Bullet Hold for women (using a CoC No. 2), Elizabeth Horne was on everyone's short list as a major contender for the world record.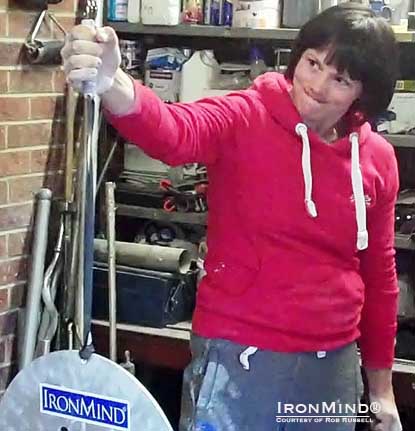 With a huge performance of 23.22 seconds on the CoC Silver Bullet, Elizabeth Horne showed her stuff in a huge way—making everyone who bet on her success look smart. IronMind® | Photo courtesy of Rob Russell.


IronMind reviewed the performance and it's official: Elizabeth Horne can be proud to have set the inaugural women's world record in CoC Silver Bullet Hold, leading the way for more top performances in this popular grip strength challenge.

Elizabeth Horne's world record performance on the CoC Silver Bullet was part of Rob Russell's 2012 Yorkshire Grip Classic, where Rob was the overall winner and that included a victory in the CoC Silver Bullet Hold with a big time of 35.37 seconds.

Incidentally, David Horne, while not competing in the overall competition, notched a time of 37.97 seconds in the CoC Silver Bullet hold, as he hunts the men's world record.

Congratulations, Elizabeth Horne!

###

Visit the IronMind Forum: talk strength, discuss this story. Strongman, grip, Highland Games, Olympic lifting, stones and more.

You can also follow IronMind on Twitter.