Christiane Schmidt: Rolling Thunder World Record 7 Pull-ups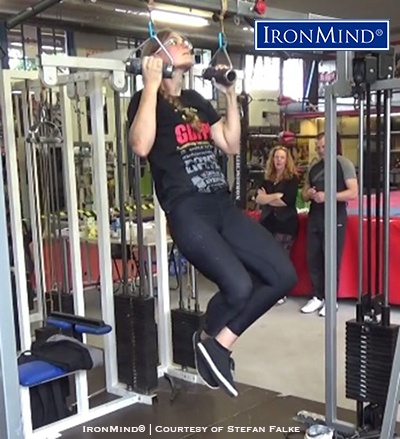 Competing in the German Grip Challenge over the weekend, Christiane Schmidt set the inaugural women's world record for Rolling Thunder® pull-ups by knocking off seven reps. The world standard had been established as five, with the requirement that the world standard had to be exceeded by at least one repetition to claim the inaugural world record.

Schmidt is 34 years old, 174 cm tall and weighs 66.8 kg and powered through her reps with complete command, in an impressive demonstration of both pull-up power and grip strength, to put her name in the record book for Rolling Thunder Pull-ups.

This contest was organized by Rüdiger Weiss and Stefan Falke, CoC3 '07, Red Nail '08.

                                                        ###



You can also follow IronMind on Twitter, Instagram and on Facebook.                        



Want to talk grip, strongman, weightlifting . . . everything strength? Visit the IronMind Forum.