2017 Odd Haugen Strength Classic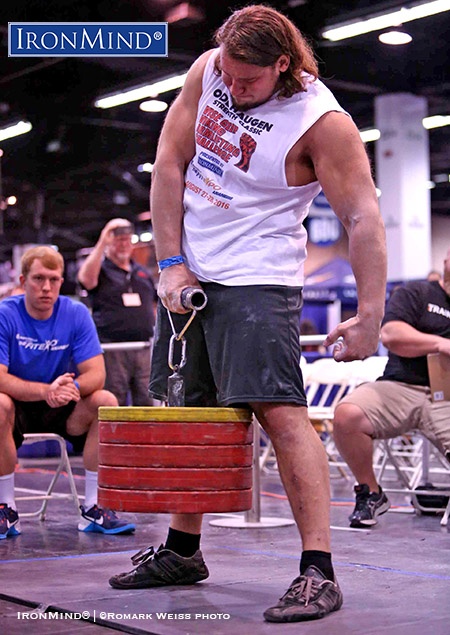 IronMind developed the Rolling Thunder in 1993, and shortly thereafter Odd Haugen developed an affinity for it and he approached IronMind about the possibility of holding a Rolling Thunder World Championships in conjunction with his top-tier strongman contests.



From there, the world's strongest men proved they also had the world's strongest hands, and marquee names from strongman also became the marquee names in the grip strength world—with Magnus Samuelsson and Mark Felix being two examples. 

Haugen has since added mas wrestling to his stable, continued his tradition of promoting premier grip strength events, and, working closely with the FitExpo, he has built a series of strongman contests that identify and develop new talent: consider Martins Licis, a young guy who in a few years catapulted from  being a walk-on in Haugen's contests to being a World's Strongest Man finalist.

Given his Viking DNA, it's not surprising that Haugen's also a fight fan, so when he released the concept of strongman combat at the 2013 Los Angeles FitExpo, and saw how both the competitors and the audience embraced mas wrestling, the rest became history: Haugen launched Mas Wrestling USA and now he's a veteran of bringing US teams to the top international mas wrestling events, where they ring the bell (two silvers and a bronze medal in Kyrgyzstan earlier this year at the 2016 Mas Wrestling World Championships, for example).

Looking for overall strength, Haugen has enriched the glory and the bounty for successful all-rounders in his contest: spanning strongman, grip and mas wrestling, there are twelve events in Haugen's contest at the 2017 Los Angeles FitExpo, and for each athlete, his top ten scores will be added together for his overall score—sweeping all the contests and bagging the overall win would deliver a cash payday of over $5000 plus all the non-cash prizes.

So, if you think you're strong and maybe should be headed toward the World's Strongest Man contest, or that you can crack coconuts in your bare hands, and think that mas wrestling sounds like fun, plan to be in prime shape at the Los Angeles FitExpo and make it official.


                                       ###



You can also follow IronMind on Twitter and on Facebook.                        



Want to talk grip, strongman, weightlifting . . . everything strength? Visit the IronMind Forum.