2010 Europe's Strongest Man Contest Is Coming to London
A Great Britain-based strongman promoter told IronMind®, "It's the biggest thing to come to the UK this year," referring to when Zydrunas Savickas, the defending World's Strongest Man (WSM) winner, along with nine other professional strongmen, will compete at London's Wembley Arena on June 19, not just for the title of Europe's Strongest Man, but also for a shot at winning an invitation to WSM 2010.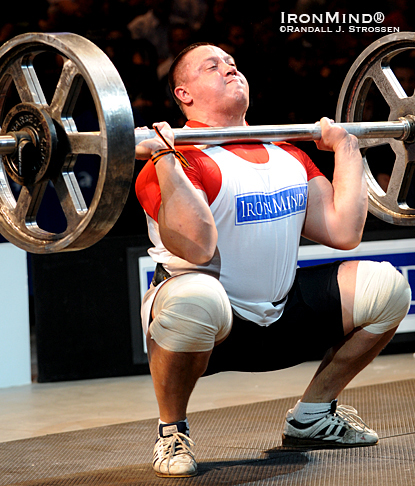 Misha Koklyaev, a veteran of the Apollon's Axle world record battle at Giants Live-Mohegan Sun 2009, is expected be in the thick of things when round two begins at Wembley Arena. Unlike Zydrunas Savickas, who is likely to continental and then push press the bar, Koklyaev, who placed fifth at the 2004 European Weightlifting Championships, might follow a squat clean with a split jerk to elevate bar. IronMind® | Randall J. Strossen photo.


This is a Giants Live production, so it has the status unique to the only official qualifying tour for the World's Strongest Man contest - do well enough here and you'll get the most coveted invitation in strongman, a chance to compete in WSM 2010.

Giants Live managing director Colin Bryce told IronMind® today that there is some late breaking news as Sergey Romanchuk has taken the place of Ervin Katona, and the events schedule has also been modified from what was originally advertised.

Here is the official start list, updated and current:

Zydrunas Savickas – Lithuania
Terry Hollands – UK
Mark Felix – UK
Laurence Shahlaei – UK
Jimmy Marku - UK
Stoyan Todorchev - Bulgaria
Louis-Philippe Jean – Canada
Misha Koklyaev - Russia
Krzysztof Radzikowski – Poland
Sergey Romanchuk - Ukraine

The marquee event will be full frontal assault on the Apollon's Axle world record, as Colin Bryce plans to pick things up from where they left off when Derek Poundstone brought down the house breaking the world record in the Apollon's Axle at the Giants Live - Mohegan Sun in 2009.

"We are looking for +190 kg," Bryce said, and with Zydrunas Savickas, Misha Koklyaev, Jimmy Marku and Louis-Philippe Jean in field, how would the dust settle with anything less.

From there, there will be "a dueling Farmer's Walk with 140 kg/hand over a 40-meter course that includes one turn. Next, it's a Medley comprising three tire flips followed by loading four heavy sacks. A Car Deadlift for reps, using a minimum of 350 kg will be the penultimate event, and, as it should, the Atlas Stones will cap off the competition, with stones ranging from 140 - 190 kg.

"Mariusz [Pudzianowski] is coming for sure," Bryce said. "We'll have him on a microphone, meeting and greeting fans . . . .," in what is a rare opportunity for London-area strongman fans to rub elbows with the only man to win the World's Strongest Man contest five times.

Incidentally, Louis-Philippe Jean is a guest lifter, Bryce explained, so that while a top place would still earn the personable and powerful Canadian strongman an invitation to the World's Strongest Man contest, he would not be eligible for a podium position since he is not a European.

Go to Ticketmaster UK for Europe's Strongest Man ticket details and other particulars.

Want to talk strength? Join the IronMind® Forum!

You can also follow IronMind® on Twitter.