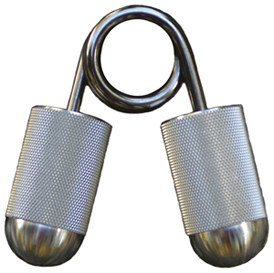 IMTUGs open up "a world of new training
possibilities for grippers and related grip feats.
Wow, what a bell ringer!"

—Richard Sorin, the first man to officially close
the No. 3 Captains of Crush Gripper
Bring each of your fingers up to its potential with IMTUG™: The Two-Finger Utility Gripper
When IronMind developed and introduced IMTUG in 2005, we knew that we had something radical: a friendly, fun, effective way to work your grip ... easy on your hands and CoC 2, the new IMTUG was the key to a level and form of grip training that had never before been possible.

With IMTUG, you train one or two fingers at a time. And your thumb is not excluded: by training your pinch grip, you make sure that your thumb is working in powerful opposition to your digits for maximum holding strength and control.

Imagine: with IMTUG, you can target each finger individually to make it a worthy component of your total hand strength. As you strengthen your fingers, you improve the overall health and condition of your hand, increasing muscle balance, range of motion, and flexibility.

New PRs, healthier hands, better performance in your chosen sports, it's the very thing that will give your grip strength and hand health training a much needed breath of fresh air. IMTUG is proving to be a keeper.
 

 
Not a conventional
gripper, IMTUG
is not held in the
hand like this!
 
 

 

We recommend an easier IMTUG for warm-ups and your thumb, pinch grip:

 

 
 
 
 
 
 

 

A medium IMTUG  for your pinkie and ring fingers:

 

 
 

 

 

 
 
 

 

A tougher IMTUG for your middle and index fingers:

 

 
 
 
 
 

 

 

 

You can train one or two fingers at a time, although we generally recommend training your ring finger and pinkie together, not your pinkie alone.

 

 
 
The Brush Technique
The hemi-end handle allows you to use a potent training technique called the brush: get an assist from an extra finger by lightly brushing across the tip of the handle. The idea is to get just enough added juice to complete your crush. You can now hold the closed position, slowly let the IMTUG open up, or just release and repeat. Whichever style you prefer, the brush technique will have the same result: it will make you stronger.
 
---
Download IronMind's free training booklets here:
Strong Hands, Healthy Hands Booklet
4 Grippers 1 Goal Training Booklet
Captains of Crush Grippers Instruction Booklet
Further reading:
Hand Grippers Training and FAQ
Captains of Crush Grippers: What They Are and How to Close Them
IMTUG may look little and friendly, but it delivers powerful results... think "tug boat"
Fine-tune your grip strength training, one or two fingers at a time
Ergonomic design matches finger lengths with training range of motion
Pocket-sized for portability: easy to carry . . . and hard to put down!
Massive ergonomic handles protect rather than pummel the soft tissue in your hands
Hemi-end handles fit comfortably in any position: use the brush technique for new gains in strength and coordination
CoC 2 - designed to work in tandem with our Captains of Crush® Grippers
Part of IronMind's Crushed-to-Dust!® family: the world's largest, most complete system of grip strength training
Build strong and healthy hands: perfect for zeroing in on areas requiring additional strength and muscle balance; use for prehab and injury prevention; and to rehab injuries or compensate for overuse
Made from authentic IronMind Grip-Tech™: since 1988 IronMind has been the world leader in designing grip tools
Featuring GR8™ Springs: the same spring technology IronMind developed for its gold standard Captains of Crush Grippers---an IronMind exclusive
Pocket-sized and rocket-powered: IMTUGs open up new worlds of grip strength and hand health.
Hand-in-Hand for a Grip with Guts
Pairing up your Captains of Crush Grippers and IMTUGs will add a whole new dimension to your grip training . . . first working on your hand as a unit and then hitting your thumb and fingers individually or in pairs. Here's how it goes: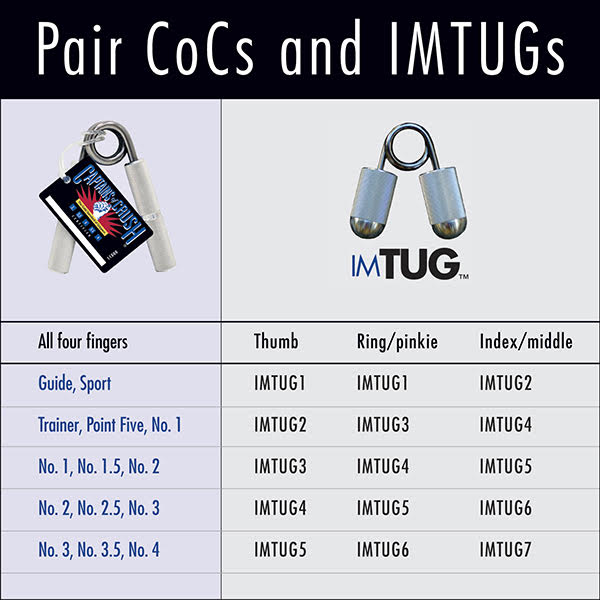 GR8™ Springs
We've been involved in manufacturing springs for our grippers for over 15 years, and because we've been diligent in our pursuit of perfection and had plenty of good fortune along the way, our latest springs, introduced in 2005, once again raised the bar in terms of precision, durability, and appearance.
GR8™ Springs are available exclusively on Captains of Crush Grippers and IMTUGs.