World Class Events AB, producer of the World's Strongest Man Super Series (WSMSS), is launching www.strongman.tv the first international strongman IPTV (Internet Protocol TV) channel.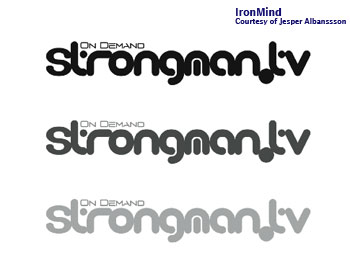 World Class Events is launching strongman coverage on internet tv: www.strongman.tv. IronMind® | Artwork courtesy of Jesper Albansson.


"Internet television is a fast-growing, dynamic new medium allowing viewers to watch video where and when they choose. Using Juzou's latest technology, StrongmanTV will deliver a range of live and on-demand programming," Super Series spokesman Jesper Albansson explained. "Despite the global popularity of strongman, it has been extremely difficult for fans around the world to gain access to international strongman programming on demand until now!"

According to the World Class Events press release, this channel will feature live broadcasts and news from WSMSS Grand Prix events, as well as material drawn from the Super Series archives, which go back to 2001.

And talking live, the WSMSS Mohegan Sun Grand Prix will be broadcast live on January 19.

"Our aim is to feed the community with fresh, quality content on a regular basis," Albansson said, encouraging strongman fans to check the free preview now and to subscribe to the full service beginning on January 18.