MILO Cover Man: Richard Lupkes
Richard Lupkes (left) is the man whose battle with John Brzenk at the World Wristwrestling Championships in Petaluma, Californa twenty years ago is nearly mythical in its stature . . . Fast forward to the 2008 Arnold, where they were to meet again, only this time, Richard Lupkes blew through John Brzenk, setting the stage for his title match with Tim Bresnan (right), which Richard won in another display of his overwhelming strength.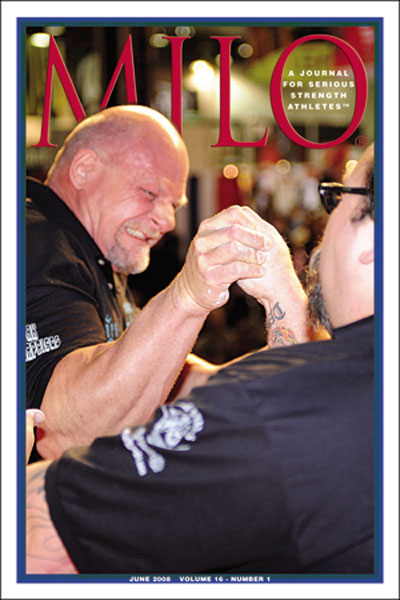 After making short work of John Brzenk, Richard Lupkes (left) did the same with Tim Bresnan (right), becoming the 2008 Arnold armwrestling champion. IronMind® | Randall J. Strossen photo.

Richard Lupkes - for what he did in Petaluma in 1988 and in Columbus in 2008 - more than earned his spot as the cover man for the June 2008 issue of MILO®.

Living in the same area as Brad and Wade Gillingham - southwestern Minnesota, where towns have populations in the range of 200 or 300 people - Richard Lupkes farms where he was born and grew up. As Brad Gillingham pointed out, isn't it kind of funny that, back-to-back, two guys from this area have been MILO cover men? "Not when they have your credentials," we said. "You guys are naturals." IronMind® | Randall J. Strossen photo.