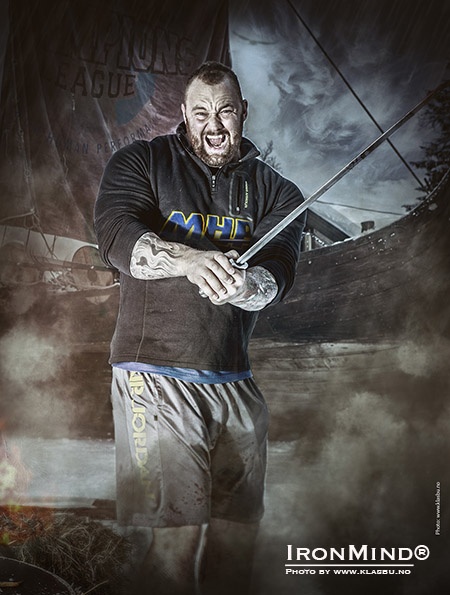 Hafthor Julius Bjornsson's performance at SCL-Norway/World's Strongest Viking triggered a tidal wave of interest and Marcel Mostert took a minute to tell IronMind about the latest developments in media worldwide.

SCL cofounder Marcel Mostert told IronMind, that Hafthor Julius Bjornsson might be "stronger than anyone in the world at this moment." IronMind® | Photo by www.klasbu.no


"Thor" Catches 1000 Years of Media!

by Marcel Mostert/Strongman Champions League

Hafthor Julius Bjornsson, alias Thor, he might be even stronger than anyone in the world at this  moment. Talking about the evolution theory of Darwin: Thor is the living example of this I would say. He even didn't need his Mjölnir (In Norse mythology, the hammer of Thor), to break the 1000 year old record from the other Nordic Icelander Orm Storulfsson.


His brute power showed last weekend in the MHP Strongman Champions League, that he was the only one who could do this record. A giant man under an even more 640 Kg giant log of 10 meters wide and with nearly 1 meter diameter.

And the news about this giant with his giant log did spread all over the world as a huge fire. From ESPN/CNN/CBS in the USA, news and TV channels in Europe and Australia. His name is anchored now everywhere.


The MHP Strongman Champions League is proud to have him under its wings. Thor himself is still in Norway at the moment to promote a perfume for men: Gydja-Iceland And tonight he will be seen in several programs worldwide, for example also at 7 PM on Discovery Canada, in Daily Planet.

Watch here the record in the official trailer from the MHP Strongman Champions League, who will broadcast the complete movie begin March on 94 TV channels. The complete trailer from the movie will be ready next week.

Thor, son of Odin, he goes as fast as the lightning at the moment.  I have never seen him that strong and powerful as he is now. All odds are with him for the season 2015.


                                                           ###



Want to talk strength?  Join the IronMind Forum. 

You can also follow IronMind on Twitter and on Facebook.