While competing on the log lift in the German Championships yesterday, 105-kg strongman Patrik Babournian "set a new world record: He did 162.5 kg perfectly," Heinz Ollesch reported to IronMind®.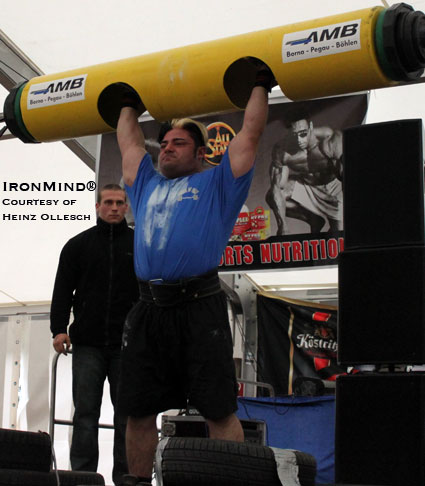 105-kg strongman competitor Patrik Babournian opened with this 155-kg in the log lift yesterday and on his second attempt, Babournian made a world record of 162.5 kg. IronMind® | Photo courtesy of Heinz Ollesch.

"In his first attempt he took 155 kg; that was 10 kg above his German record. Then, on the second attempt he did the 162.5 kg. But this was not enough: he asked for 170 kg and cleaned it easily, and only the lockout was a little bit too heavy.

"I am sure we will see a few more records in the near future," Ollesch said.