Zydrunas Savickas Wins World's Strongest Man
With Mike Burke injured, the four-man race for the 2014 Commerce World's Strongest Man title was effectively trimmed to three men—Brian Shaw, Hafthor Julius Bjornsson and Zydrunas Savickas—and the places on the podium were going to be determined by the final event, the Atlas Stones.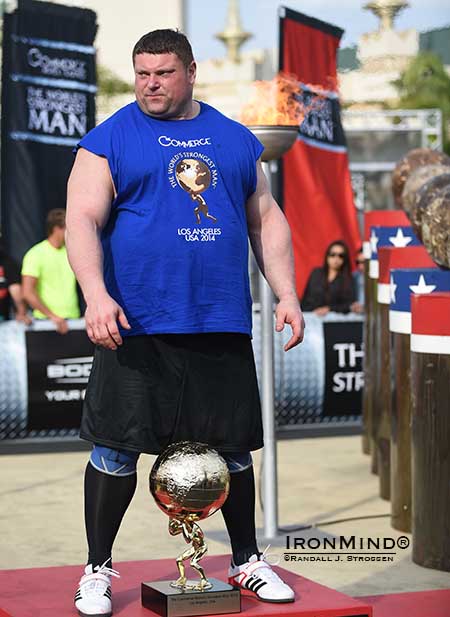 Zydrunas Savickas won his fourth World's Strongest Man title yesterday, at the Commerce Casino and Hotel. IronMind® | Randall J. Strossen photo


Hafthor Julius Bjornsson had been lighting up this year's competition at every turn and the young Icelander was seen by some as being on the verge of winning his first World's Strongest Man contest. Brian Shaw, the defending champion, had been conserving himself through the qualifying round and now it was time to pull out all the stops if he were to join the elite group of strongman who have garnered three World's Strongest Man titles. Zydrunas Savickas, the man whose strength is without question and whose collection of strongman titles overshadows all others, was hungry to join the venerated ranks of Jon Pal Sigmarsson and Magnus Ver Magnusson, by adding a fourth World's Strongest Man title to his haul.

Long story short, Mike Burke, paired with Brian Shaw, had the misfortune of knocking over the first barrel, and Shaw, moving quickly and smoothly, posted a fast time, but would it be good enough?

Hafthor Julius Bjornsson, who had claimed the King of Stones title in the qualifying round, was in the final pair, with Zydrunas Savickas, and he won the matchup, as predicted, but the burning question was "Had Zydrunas Savickas been fast enough to garner second place in the stones?" because if he had, the 2014 Commerce World's Strongest Man title was his.

He had and it was.

###



Want to talk strength? Join the IronMind Forum.

You can also follow IronMind on Twitter and on Facebook.