Zydrunas Savickas Wins SCL GERMANY (FIBO POWER)
Zydrunas Savickas added his name to the roster of strongman winner at the FIBO and Strongman Champion's League Marcel Mostert filed this report with IronMind.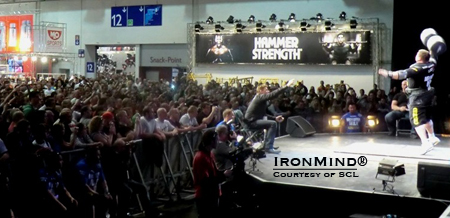 The Big Z (Zydrunas Savickas) on stage before a packed house at the FIBO Power, where the SCL Germany contest took place. "The Strongman Champions League is getting an incrediblly strong value at the FIBO," said Marcel Mostert. IronMind® | Photo courtesy of SCL.


SCL Germany (FIBO POWER) Won by Zydrunas Savickas
by Marcel Mostert

It was the first time in years that I saw so many visitors this year at the FIBO expo in Germany and according to me and many others it was the best FIBO ever.

The SCL had a big impact there: With a strong field of athletes, a packed crowd and a perfect organization by Heinz Ollesch and his GFSA team, we had all ingredients for a successful weekend at the FIBO.

Zydrunas won the second SCl competition of the year, with Terry Hollands second and Martin Wildauer ("The Deadlift Kid") in third place, just a half point in front of Ervin Katona.

It was an exciting show, especially because Zydrunas struggled on the first event, the log lift. He was just able to do a 182.5 kg log and won it closely ahead of Patrick Babaumian (177.5 kg) and Terry Hollands (175 kg)
Also, it must be noted that this was a giant wooden log with a diameter of 36 cm !! (normally 31 cm), and Zydrunas has an elbow injury at the moment.

The FIBO is still growing every year and has implemented the strongman scene in a great way, done by manager Jens Thieme and Heinz Ollesch, and a great step in this was the revolutionary birth of FIBO POWER, with an impressive list of athletes who competed here already. Champions from all over the world and world records came to the FIBO since we are there.

The list of winners so far from the FIBO POWER Strongman Champions League since it begun:

2007 Jarno Hams (Holland)
2008 Igor Werner (Germany)
2009 Travis Ortmayer (USA)
2010 Misha Koklyaev (Russia)
2011 Zydrunas Savickas (Lithuania)

Here are the official overall results from SCL Germany FIBO 2011:


| | | |
| --- | --- | --- |
| 1. | Zydrunas Savickas | 70.0 |
| 2. | Terry Hollands | 55.5 |
| 3. | Martin Wildauer | 53.0 |
| 4. | Ervin Katona | 52.5 |
| 5. | Jimmy Laureys | 49.5 |
| 6. | Travis Ortmayer | 45.0 |
| 7. | Etienne Smit | 44.5 |
| 8. | Konstatin Illin | 39.5 |
| 9. | Patrik Baboumian | 32.5 |
| 10. | Jarno Hams | 32.0 |
| 11. | Juan Carlos Herridia | 26.0 |
| 12. | Daniel Wildt | 22.5 |
| 13. | Gregor Stegnar | 22.5 |
The
Strongman Champions League
continues with the third stage, the SCL Serbia, on May 21, and the fourth one, in Johannesburg, South Africa on June 4.
###
IronMind Forum
: talk strength, discuss this story. Strongman, grip, Highland Games, Olympic lifting, stones and more.
You can also follow IronMind on
Twitter
.