Zydrunas Savickas Wins SCL Final and 2012 Season Championships
Reporting from Martinique, SCL cofounder Ilkka Kinnunen told IronMind, "The second day started like the first day, in front of a full crowed (around 10,000 people), and the athletes began with a heavy Truck Pull with a harness and rope: 27 tons uphill for 25 meters was too much for all athletes except Zydrunas who did the full course inside the time limit.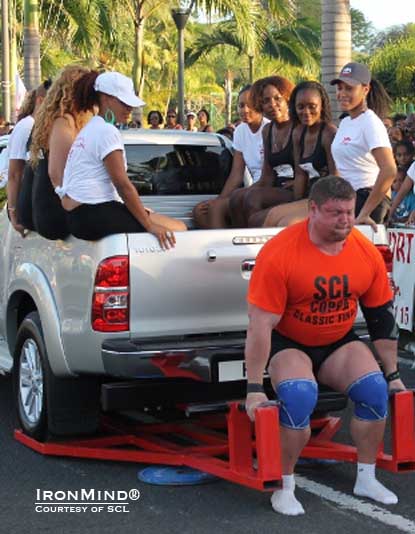 Zydrunas Savickas won the 2012 SCL finals, along with the season title, and he added another world record to his collection as the dominant strongman of his time, if not all time. IronMind® | Photo courtesy of SCL.


"The second event, Forward Hold, was again the Big Z show with the new world record: he stopped the time in 1.22.11sec. This was his over 60th world record he has set in his career!!!

"Third event of the day, 400-kg side handle Deadlift with pickup and 8 cheerleaders sitting in it with a 60-sec time limit for reps. Misha Koklayev ruled the deadlift with amazing 7 reps; second also with excellent result Radziowski 5 reps. Amazing lifts from these two!!!

"Last event was 150-kg Farmer's Walk, 30m for time. Misha Koklayev did an excellent time just over 12 seconds following Big Z just one second slower.

"All these results was done in 35-degree C heat, which of course puts some extra pressure on the athletes; however the athletes enjoyed the competition, the audience loved watching it, and the SCL board is ready for the 2013 season with a full calender which will be announced soon, so stay tuned, because you will hear it first from ironmind.com," Kinnunen said.

###

The IronMind Forum: discuss this article, talk strength, get help with your training.

You can also follow IronMind on Twitter.