Zydrunas Savickas: Trim and Strong, but No Arnold
Zydrunas Savickas told IronMind® today that, "I do not compete in Arnolds this year."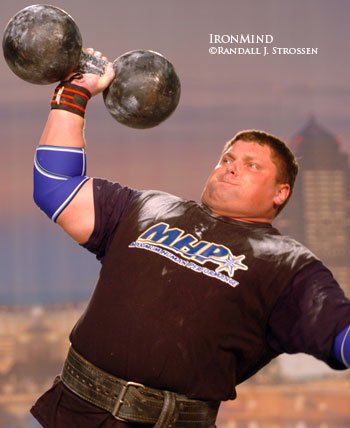 In the hands of Zydrunas Savickas, an Inch replica dumbbell is nearly a toy, so when the Lithuanian strongman says his shoulder power is high, watch out. IronMind® | Randall J. Strossen photo.

"I decided it after last victory in Arnolds," said the man known as the Big Z, a strongman whose name is synonymous with winning the Arnold strongman contest and dominating the log lift world record. "I want to have some rest after six years of full-time seasons. I am planning to come back to competition in [the] summer."

Don't get too comfortable in your collective relief, is the hint to other professional strongmen, though, because Zydrunas Savickas isn't exactly turning into a couch potato while he sits out the early part of this year's strongman season.

"My training is going very well," reported Zydrunas. "I work more for endurance." Asked how much he was weighing at the moment, Zydrunas told IronMind® that his bodyweight is 160 kg, adding, "But my power [is at a] very good level, especially my shoulders."

That's the physical side of things, but Zydrunas Savickas is also recharging his psychological resources: "Every day I [grow] more hungry for competition," he said.

Besides his training and family life, Zydrunas is involved in more business ventures. "I opened a fitness gym three months ago," he said, "so I am working a lot also for this business." Pay a visit and see for youself: savickosportoklubas.