Zydrunas Savickas: "The Greatest Ever"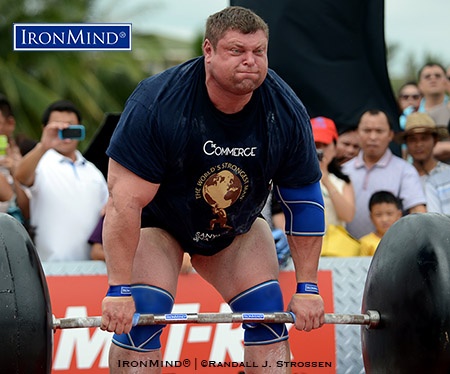 Fortissimus World Strength has named Zydrunas Savickas (Lithuania) as "the greatest ever strongman," based on its extensive survey and rating system.

Following is the statement, from Fortissimus World Strength.
Zydrunas Savickas: The Greatest Ever
by Paul Ohl
Founding President
Fortissimus World Strength
 
Fortissimus World Strength  released officially the All-time International Strongman Ranking for the past 40 years. The system has surveyed 340 international Strongman competitions organized between 1977 ( inaugural year of WSM) and 2017.
The ranking system took into account 13 international categories listed as follows :
 
WSM ( 40); Arnold Strongman Classic ( 16) ; IFSA World Championships ( 3) ; World Muscle Power Championships ( 19); SCL Championships Finals ( 8); Giants Live Tour Finals ( 2); Fortissimus Strongest Man on Earth ( 2); IFSA, WSM, Strongman Cup Super Series and Grand Prix ( 191 ); Arnold Pro Strongman World Series ( 10); Giants Live Open ( 7); Pure Strength World Challenge ( 4); Strongman Défi International Mark Ten ( 9); Continental Europe Strongest Man ( 29). The system did not score on National Championships.
 
With 11 450 total points at stake, Zydrunas Savickas from Lithuania , winner of 4 WSM, 8 Arnold Strongman Classics, 2 IFSA World Championships, 1 Fortissimus title, 1 Giants Live championship, and 89 other international Strongman victories, stands out as the greatest strength athlete ever, scoring 4612,5 points , a share of 41,2 % of the overall point system.
The Lithuanian powerhouse ,  now 25 years competing in sports of strength ( he entered 204 Strongman contests), earned 18 Strongman world titles and, at one point or another, established 57 world records ( he improved the log lift world record alone 18 times).
 
Runner-up on the all-time Strongman honor's list is Mariusz Pudzianowsi from Poland. The most charismatic strength athlete ever, winner of a record 5 WSM titles and of 42 out of the 59 international Strongman contests he entered, earned 1645 points , a share of 14 % of the total points awarded.
 
Out of the top 50 strength athletes on the list, 24 % come from the Baltic countries, 18 % from larger Scandinavia, 16 % from the USA and 14 % from the UK. Overall, 20 countries are represented by the 50 world-class strength athletes.
 
                                                        ###

You can also follow IronMind on Twitter, Instagram and on Facebook.                       



Want to talk grip, strongman, weightlifting . . . everything strength? Visit the IronMind Forum.