Zydrunas Savickas Leads World's Strongest Man
Malta - "If there is one man on the planet who deserves this title, it's Zydrunas Savickas," a leading figure in strongman told IronMind® this morning, and at the end of the first day's competition, that's exactly who leads the 2009 World's Strongest Man contest.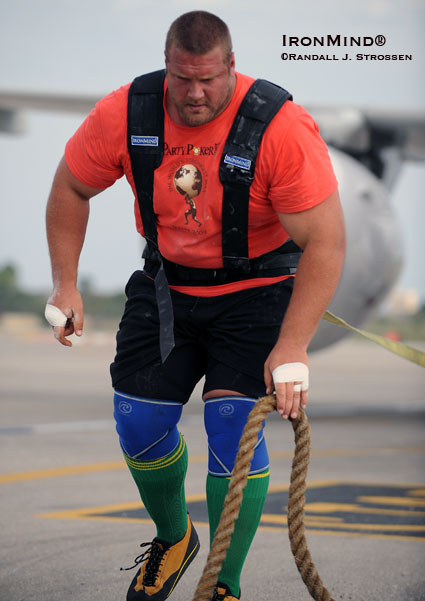 Even though he tore multiple calluses on both hands earlier in the day, Terry Hollands didn't just finish the Plane Pull at the 2009 World's Strongest Man contest today - he won the event. IronMind® | Randall J. Strossen, photo.


The day started with the Fingal's Fingers, which Savickas won, followed by Dave Ostlund and then Brian Shaw. Next, it was the Farmer's Walk, which Mariusz Pudzianoski won. Pudzianowski's performance was called a reminder of sorts: "We've just seen that the 5-time World's Strongest Man winner should never be counted out," was how a person on the field put Pudzianowski's victory into perspective. Derek Poundstone was second and Laurence Shahlaei was third.

Terry Hollands, who had badly ripped calluses in the Farmer's Walk didn't let bloodied hands stop him on the Plane Pull, which he won. Places below Hollands were closely contested, with Savickas coming in second; and Brian Shaw and Travis Ortmayer tying for third place.

Savickas finished the day in first place overall; Pudzianowski is in second and Derek Poundstone is in third.

IMG Executive Vice President Barry Frank, the man who conceived and developed the World's Strongest Man contest, told IronMind® today, "I just wanted to entertain people," as he explained that people enjoy watching things they can't do, and that extraordinary feats of strength fit the bill perfectly.

"After someone's spent all day on a routine job, they come home and want to be entertained. I wanted to be the guy who did that," Frank said.

Continue to follow updates on the official World's Strongest Man website, the IronMind® News and the IronMind® Twitter page.