Zydrunas Savickas AND Terry Hollands Win SCL Ireland
"Unique it is - two winners in one Strongman Champions League contest," Marcel Mostert reported to IronMind®, so he anticipated your next question: "How is this possible?"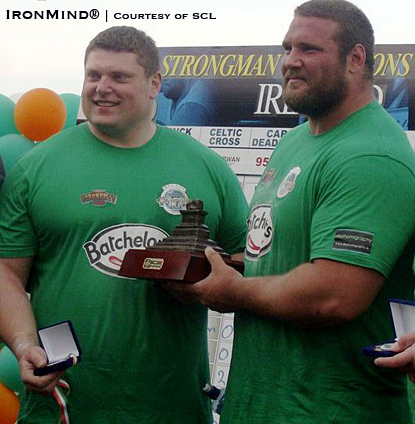 Zydrunas Savickas (left) and Terry Hollands (right) tied for first place at the Strongman Champions League–Ireland contest yesterday. IronMind® | Photo courtesy of SCL.


"Well, on a nice sunny Sunday in Limerick, Ireland, on June 6, Zydrunas and Terry finished both on same points for first place," Mostert confirmed.

"This happens sometimes in competitions," Mostert said, referring to ties in the number of points, but "Normally we do a count back then and whoever won most events is the winner."

Things were a bit closer than that in Ireland, though, because Mostert said, "Out of six events, Zydrunas won three events, got two times second place and one time, fourth place. But Terry did exactly the same!"

"Therefore, the referees and the board of SCL decided to give both athletes the first place - a unique win in the three-year history of Strongman Champions League.

"It was a great show, with many thanks to Gary and Shelly Kirwan as co-organizers in the SCL , who made it happen, the first SCL in Ireland," Mostert continued.

"And it looks like the weather was unique too, as an Irish man told me that he got sunburned today, which almost never happens in Ireland.

"A great battle for the first place, but also the battle for third place was exciting, as Alexander Klushev and Agris Kazelniks both had 42 points before starting the last event, the carry and drag. Agris was a few seconds faster and took the third place overall.

"The deadlift was again one of the heaviest ever in Strongman Champions League: 400 kg for reps with a car, and only four athletes were able to do this. Terry won with 3 reps, Agris and Alex had 2 reps, and Zydrunas did 1 rep. It had to come out of their toes . . . For sure Bill Kazmaier would have liked this deadlift! And yes , we agree, it is not easy to win a SCL competition with these kind of weights.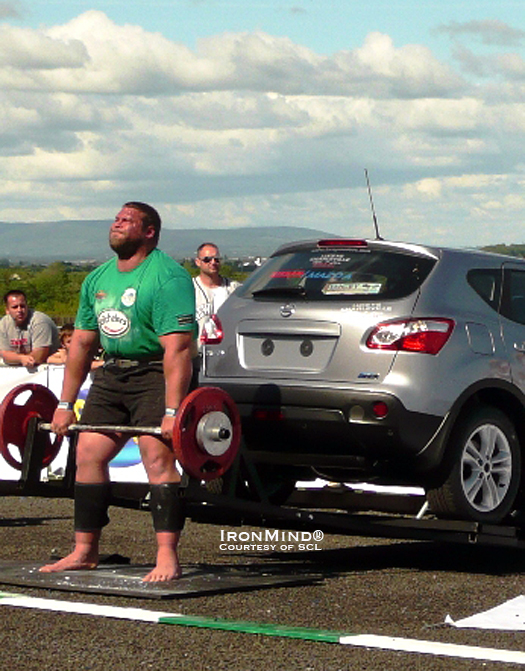 Terry Hollands won the 400-kg Car Deadlift for reps. IronMind® | Courtesy of SCL.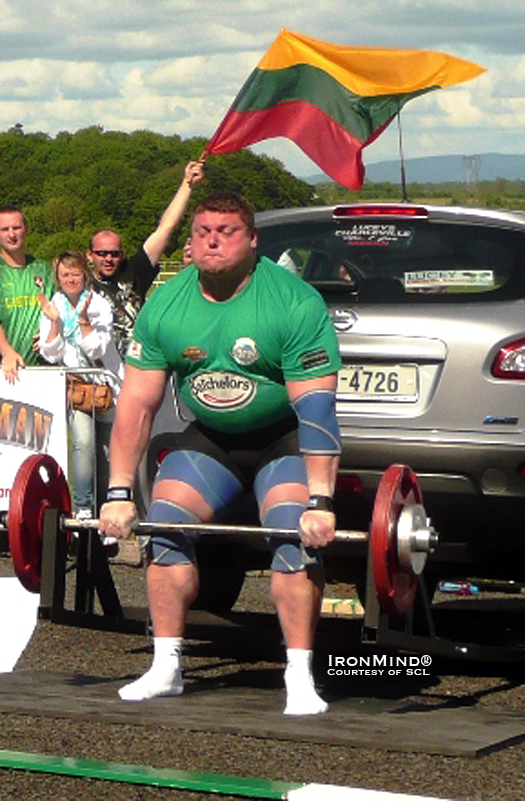 When Zydrunas Savickas feels the strain in a deadlift, you know why Marcel Mostert said Bill Kazmaier would have liked this event. IronMind® | Courtesy of SCL.


Here are the overall scores of SCL–Ireland:
| | | |
| --- | --- | --- |
| 1. | Terry Hollands, Zydrunas Savickas (tie) | 62 |
| 3. | Agris Kazelniks | 51 |
| 4. | Alexander Klyushev | 48 |
| 5. | Travis Ortmayer | 42 |
| 6. | Mark Westaby | 40 |
| 7. | Rafal Wilczynski | 27 |
| 8. | James Fennelly | 25 |
| 9. | Lewis McClean | 23 |
| 10. | Kevin Nee | 21 |
| 11 | Owen Sharahan | out |
| 12. | Ervin Katona | out |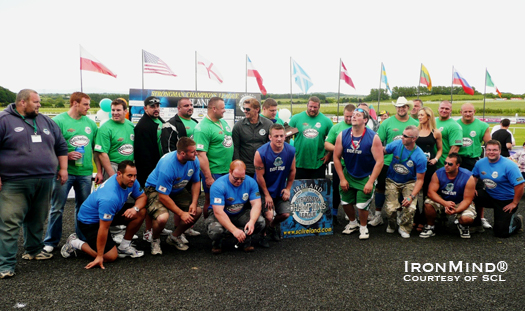 Marcel Mostert was big on the debut of SCL–Ireland and said, "For sure we will be back." IronMind® | Courtesy of SCL.


Summing up his satisfaction, Mostert told IronMind®, "For sure we will be back next year in Ireland."

"With many thanks to the organization, the Irish people and enjoying their hospitality , we have packed our bags already again, to do next Saturday, 12 June, the 5th stage of the Strongman Champions League in Sofia–Bulgaria," Mostert said . . . ready to keep his strongman train running down the tracks.

Stay tuned for the lineup and events this week.


Want to talk strength? Join the IronMind® Forum!

You can also follow IronMind® on Twitter.