Zydrunas Savickas: 212.5 kg on the IFSA Axle . . . Exceeds the World Record
Paul Ohl reported to IronMind® that he'd heard a rumor that strongman king Zydrunas Savickas had broken the world record on the Apollon's Axle with a 212.5-kg lift over the weekend.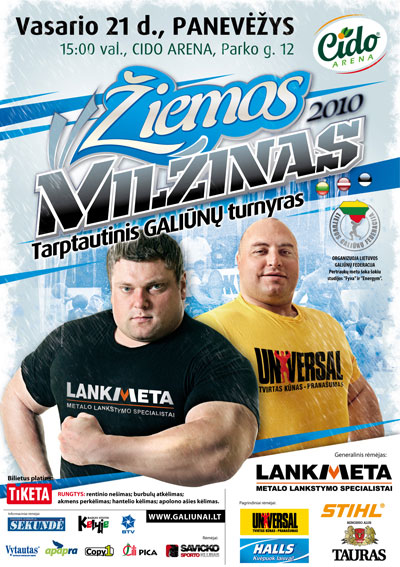 Zydrunas Savickas, the only man to have won all the major strongman titles in recent years, is showing early signs that 2010 might be more of the same for the man who seems to be able to break strongman records at will. IronMind® | Photo courtesy of the Lithuanian Strongman Federation.

IronMind® was able to confirm the lift directly with Zydrunas Savickas: "212.5 I lift in Baltic Winter Giant contest. Raimonds Bergmanis was referee in this event," referring to the highly-regarded former weightlifter and strongman competitor who has remained active in strongman. Zyrdrunas Savickas won the contest (59 points), Vidas Blekaitis was second (52 points), Saulius Brusokas was third (46 points) and Agris Kazelniks was fourth (45 points).

While nominally exceeding the world record on this lift, Zydrunas Savickas's 212.5-kg effort did not officially break the world record - something that Zydrunas Savickas is the first to point out - as a number of the conditions required for a world record attempt were not met on this occasion. This was also confirmed by Marcel Mostert, cofounder of Strongman Champions League. So consider this big lift to be another indication of how strong Zydrunas Savickas is, as well as being a strong hint of what to expect in the near future.

Because the equipment used is so important to the amount of weight handled on Axle lifts and because there has been so much confusion and misinformation about the Apollon's Axle, IronMind asked Zydrunas Savickas about this specifically, as it appeared to us that the IFSA setup had been employed on this attempt. Zyrdrunas Savicas confirmed that this was true: ". . . what we use was IFSA Apollon Axle."

Even before hearing of this latest demonstration of his strength and current condition, every indication was that Zydrunas Savickas would be coming to Columbus more than ready to add another big title to his collection.

Never one to beat his own chest or to waste words, Zydrunas simply told IronMind®, "Training [is] going very good."
Indeed.