Zsolt Szabó Wins Hungary's Strongest Man
Hungary's Strongest Man was held in one of the best Hungarian adventure park in 'Sobri Jóska,' named after a legendary outlaw Sobri Jóska who pretty much lived like Robin Hood back in the day," Francis Brebner reported to IronMind.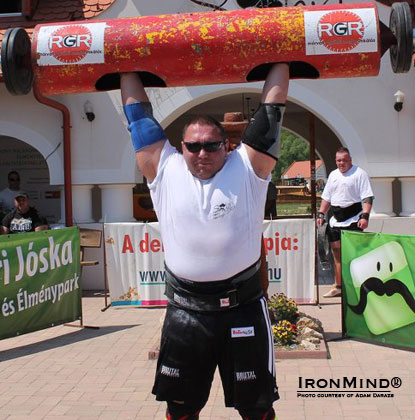 Ákos Nagy, second place in the 2012 Hungary's Strongest Man contest, on the log lift. IronMind® | Photo courtesy of Adam Darazs.


"The biggest names in the strength sport in Hungary gathered for the showdown which included Zsolt Szabó and Ákos Nagy, and they were going head-to-head in most of the events for the Hungarian Strongest Man title," Brebner said.

In the end, Szabó edged his rival (54 points to 50), with Tamás Hajnal coming in third, with 36 points.

###

The IronMind Forum: discuss this article, talk strength, get help with your training.

You can also follow IronMind on Twitter.