Columbus, Ohio - Derek Poundstone showed that he's for real, pressuring the big man from Lithuania, but in the end, not content to stop at five wins, Zydrunas Savickas captured his sixth consecutive Arnold Strongman title tonight.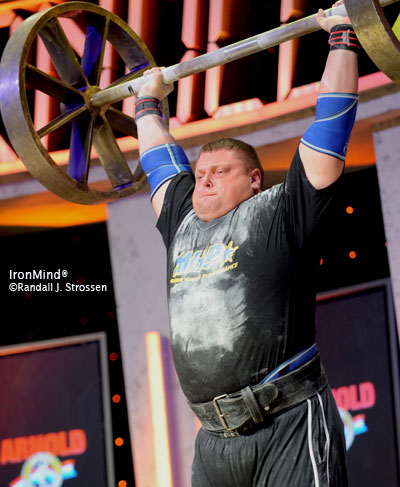 Making it six straight victories, Zydrunas Savickas won the 2008 Arnold Strongman title tonight. IronMind® | Randall J. Strossen photo.

Here are the final places:

1. Zydrunas Savickas
2. Derek Poundstone
3. Mikhail Koklyaev
4. Andrus Murumets
5. Benedikt Magnusson, Brian Siders (tie)
7. Phil Pfister
8. Oleksandr Pekanov
9. Van Hatfield
10. Vasyl Virastyuk

In other big news at the Arnold today, Rich Lupkes showed that yesterday's win over John Brzenk was no fluke, as he beat Brzenk again, on his way to becoming the 2008 Arnold Armwrestling heavyweight champion.