Zhong Triples at Asian Juniors
Gunsan, Korea - Making it look easy, Zhong Guoshun (China) won all three gold medals in the 77-kg category at the Asian Junior Weightlifting Championships today.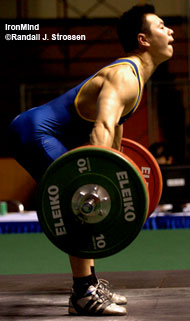 There's nothing wishy-washy about the position of Zhong Gusohun's back as he accelerates 145 kg on his second attempt in the snatch. IronMind® | Randall J. Strossen, Ph.D. photo.

Zhong started his six-for-six day by snatching 140, 145 and 150, good enough for a 9-kg lead going into the clean and jerk. Even though he scooped up first place in the clean and jerk as well, things were a little closer. Zhong ended with a very strong 179, edging Rasoul Taghian (Iran) by one kilo, who in turn beat Le Kyu-seok (Korea) by one kilo.