Zhang Xiangxiang Makes a Huge Comeback and Wins the 62s
Beijing - He was a bronze medalist at the 2000 Olympics and the 2002 junior world champion, but tonight, after a long break from international competition, Chinese weightlifter Zhang Xiangxiang returned with a bang and netted his country's fourth gold medal in the sport at the Beijing Olympics.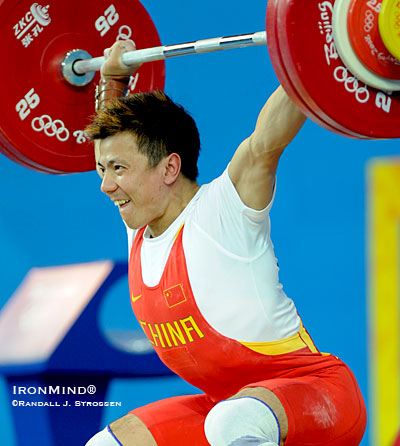 He said that being persistent is what it's all about, and that as long as you are alive, you have a chance to accomplish everything: It sounds good, but tonight Zhang Xiangxiang proved his point as he pocketed a very tangible reward - an Olympic gold medal. IronMind® | Randall J. Strossen, Ph.D. photo.

Zhang led after the snatches, having made 143 kg, but he didn't have a lot of breathing room, as Ji Hunmin (Korea) was sitting pretty with 142, and both Diego Salazar (Columbia) and Im Yong Su (North Korea) had made 138.

The playing field changed rapidly in the clean and jerk, though, as Ji Hunmin missed 161 kg three times and Im Yong Su did the same thing with 168 kg. This left the door wide open for Zhang Xiangxiang, who moved into gold medal position with his first jerk, 169 kg, and from there on the only question was just how wide his winning margin would end up being.

After nailing 176 kg on his second jerk, Zhang Xiangxiang lit up the packed house by calling for 184 kg, which would be good for Olympic and world records in both the jerk and the total. He racked the bar, but that was as far as the lift went, as he had to dump it while trying to stand up. No matter though, because guess who came back in about the biggest way possible: He entered the meet as someone even most lifting fans would not have been able to recall and he left as the Olympic gold medalist.