Zhang Jie: World Record in the 62s
Kanazawa, Japan - Watching the 62-kg category at the Asian Weightlifting Championships today it was apparent that there was Zhang Jie (China), and then there was the rest of his class.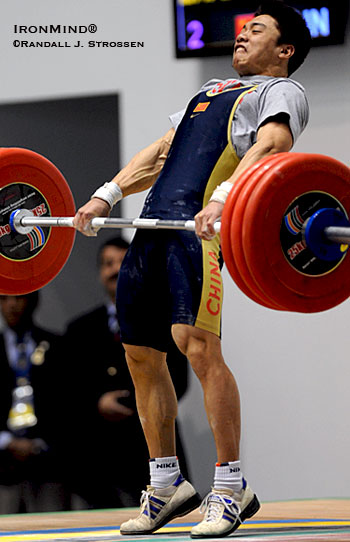 Zhang Jie (China) finishes his pull on the 179-kg clean and jerk which gave him the world record in the total. IronMind® | Randall J. Strossen photo.

Sure, Zhang Jie knocked off three picture perfect snatches and two picture perfect clean and jerks before having to make his first tiny adjustment, moving one foot half a step on his third clean, which he then jerked as if it were shot out of a cannon. So much for lifting with track-like precision, but how about the weight? How about a world record total?

And if that's not enough to get your attention, consider that when asked if Zhang Jie would be be part of China's weightlifting team at the Beijing Olympics, coach Hong Jiaxin told IronMind®, "Maybe." Must be nice to have options like that.

Zhang Jie ended the night with 147/179 for a world record total of 326 kg.