Zhang Jie Wins the 62s: Chinese Weightlifters Are Flexing Their Muscles at the Asian Games
Dongguan, China – The Chinese weightlifting team is continuing to flex its muscles at the Asian Games as Zhang Jie won the men's 62-kg category and ended the night with a shot at breaking his own world record in the total.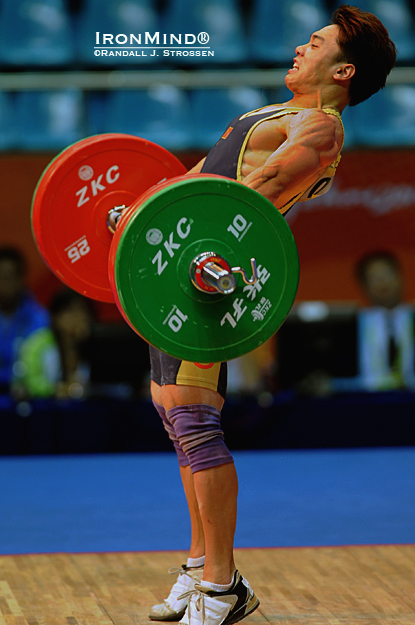 Ripped and ready, Zhang Jie won the gold medal in the men's 53-kg category at the Asian Games tonight. IronMind® | Randall J. Strossen photo.


Zhang, who was looking pretty shredded, made 140-kg in the snatch, missed 145-kg, and then came back to make it. Kim Un Guk (North Korea) knew that he needed everything he could get in the snatch if he were to pressure Zhang and he came through, notching 140, 145 and 147. Eko Yuli Irawan (Indonesia) was also expected to be playing for a medal and he stayed in the running when he snatched 137 and 141, before missing 144.

After their opening clean and jerks, Kim and Zhang were tied at 317 kg, but Kim was heavier. Kim missed the jerk with 175 kg on his second attempt, and on his third attempt he made a tough clean, staggered forward, dipped, but did not jerk the bar - a miss that was greeted with applause by the locals as it secured Zhang's gold medal.

Zhang took 176 on his second attempt and made a good jerk after having to work a little to stand up with the clean. Irawan, who was in third place with 311-kg total called for 177 in a bid to move up to the silver medal, but he missed the clean.

A buzz went through the competition hall when Zhang called for 182 kg on his third attempt - a success with that weight would break his own world record in the total and if, as seemed likely, he bumped it up to 183, he'd also break the world record in the clean and jerk.

As it turned out, Zhang stayed with 182, which he deadlifted, but no matter - he's the Asian Games champion and he also served noticed that he's in a position to challenge the world record in the clean and jerk and boost his own world record in the total.

Later in the evening, Li Ping (China) lit up the competition hall as she won the women's 53-kg class with a performance that included a new world record in the snatch (103 kg) and in the total (230 kg).

###


Want to talk strength? Join the IronMind Forum!

You can also follow IronMind on Twitter.