Zenith Update: First Shipments
The newest gripper from IronMind—Zenith—has begun shipping today.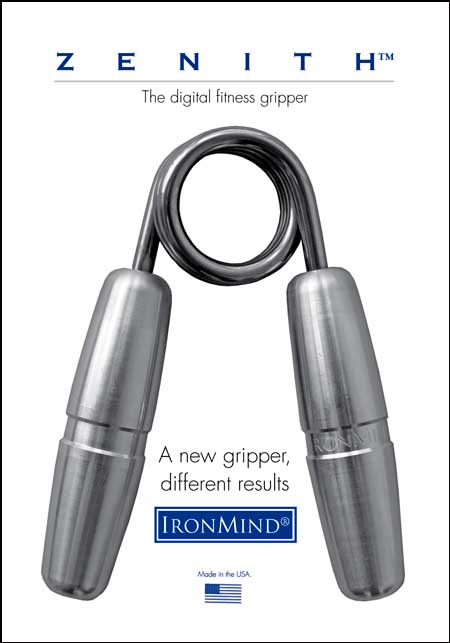 Zenith is the latest gripper from IronMind—complementing the peerless Captains of Crush line, Zenith is a 21st century digital fitness gripper designed for conditioning, prehab and rehab, as well as strength. ©2012 IronMind Enterprises, Inc.


Zenith will complement Captains of Crush (CoC) grippers with its focus on conditioning as well as strength, and for its applications in prehab and rehab situations. Zenith features handles that are hand-friendly and a new proprietary spring that was designed to match Zenith's need to deliver steady performance rep after rep.

The Zenith Trainer will begin shipping today, the Zenith 1 tomorrow and the Zenith Agility on Wednesday. The Zenith 2 and the Zenith 3 are estimated to begin shipping next week.

The Zenith Agility is easier to close than a CoC Guide, and it is specifically designed for people who need a gentle way to condition and strengthen their hands. The other Zenith names parallel those from the Captains of Crush gripper line, and the recommendation is to initially select a Zenith that matches the model CoC being used for your work sets—it will feel easier to close, and that's by design.

Zenith Grippers are available from IronMind's e-store as well as from selected dealers.

### 



The IronMind Forum: discuss this article, talk strength, get help with your training. 



You can also follow IronMind on Twitter.