Zenith Grippers + Expand-Your-Hand Bands for Strong and Healthy Hands
Pair a Zenith gripper with Expand-Your-Hand Bands and you'll have all the vital tools for building strong and healthy hands—save money, too, with IronMind's new Two-Way Grip Sets.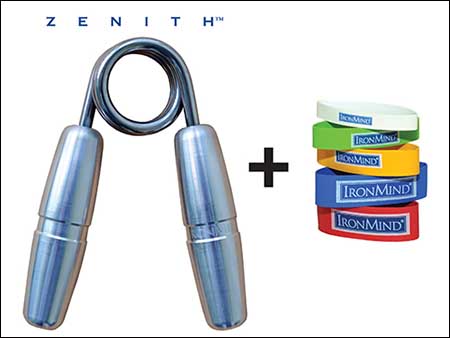 A Zenith Gripper and a set of Expand-Your-Hand Bands are the basic training tools for building strong and healthy hands—they'll make your hands perform and feel better . . . coming and going. Image ©IronMind Enterprises, Inc.





Developed by IronMind in 2012, Zenith grippers complement IronMind's benchmark Captains of Crush grippers: whereas Captains of Crush grippers are geared toward maximum grip strength, Zenith grippers put a premium on conditioning as well as strength, while also sparing the soft tissue in your hand.

That's only half the story, though, because as IronMind began explaining more than a decade ago, there is more to hand strength and health than what you can crush.



In all likelihood, nearly all your daily activities involve the flexors in your hands—whether you are shaking hands, holding a tennis racquet or squeezing your favorite Captains of Crush or Zenith gripper.

The other side of the coin is your extensors—the muscles that make your hand open up—and without some work on them, pain and possibly injury are likely to follow: think tennis elbow if you want an example of how things can go awry when you have muscle imbalance coupled with overuse.



In 2005, IronMind developed Expand-Your-Hand Bands as a fun, convenient way to train the extensors in a progressive manner, so if you pair a Zenith gripper with a set of Expand-Your-Hand Bands, you'll have your hand-training needs covered, coming and going.



Do your hands (and yourself) a favor and remember that your hands open as well as close, and if want to receive the benefits of balanced hand training and save money at the same time, IronMind has two new two-way grip packages, one built around the Zenith Trainer gripper and the other built around the Zenith 1 gripper.

### 



The IronMind Forum: discuss this article, talk strength, get help with your training.

You can also follow IronMind on Twitter.