If they're thinking of Russia's Tatiana Kashirina (+75 kg category), you can take that as a huge compliment because she took world record attempts in the both the snatch and the clean and jerk, and although she missed both, she served notice that she's a podium favorite in London.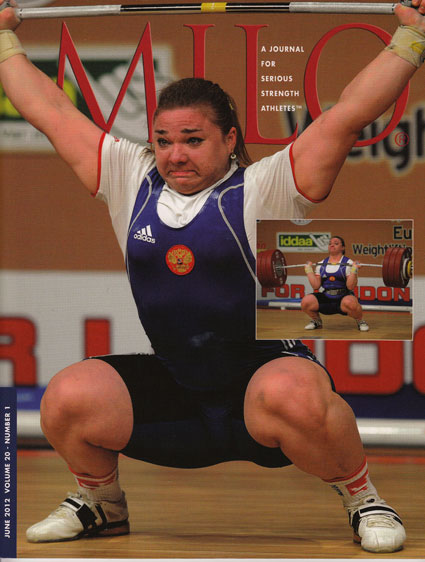 The June 2012 issue of MILO is out and the cover features Tatiana Kashirina, world record holder and a gold medal hopeful in women's weightlifting at the London Olympics. IronMind® | Randall J. Strossen photo.


With Kashirina's huge attempts featured on the cover, the stage is set for the June 2012 issue of MILO to deliver another world class package to the strength world: weightlifting, stonelifting, a Roundtable Report on spotting future talent, Captains of Crush® Grippers: Who's Who, Highland Games, kettlebell training, effective coaching, and much more.

Check out what MILO, headed to its fifth Olympics, can bring to your game.

###

The IronMind Forum: discuss this article, talk strength, get help with your training.

You can also follow IronMind on Twitter.