Yoto Yotov: He's Competing This Year
1997 World Weightlifting Champion Yoto Yotov, one of the most durable members of the Bulgarian national weightlifting team, will be competing again this year - although he will be representing Croatia.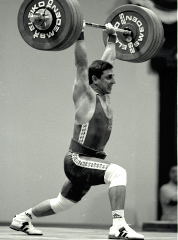 Yoto Yotov sticks this 202.5-kg jerk to win the 76-kg category at the 1997 World Weightlifting Championships (Chiang Mai, Thailand). IronMind® | Randall J. Strossen, Ph.D. photo.
Yotov, the 1996 Olympic silver medalist in the 76-kg category, came back at the World Weightlifting Championships the next year to win the gold medals in the jerk and in the total, and his friendships with some American lifters stretch back to 1990, when he lifted in the Goodwill Games (Spokane,Washington).

A fit 35-year-old, Yotov said he is snatching 150 kg and cleaning and jerking 190 kg very consistently in training, at a bodyweight of about 83 kg, and that he expects to go down to the 77-kg category for this summer's Mediterranean Games.