World's Strongest Man: Truck Pull
Paradise Island, Bahamas - The second to the last day of the 2004 World's Strongest Man finals kicked off with a classic strongman event, the Truck Pull.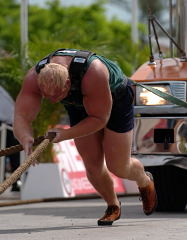 Magnus Samuelsson puts the pedal to the metal in the Truck Pull at WSM. IronMind® | Randall J. Strossen, Ph.D. photo.
Coming into the second to the last day of the World's Strongest Man finals, Vasyl Virastiuk and Zydrunas Savickas were tied at 24 points, followed by Mariusz Pudzianowski at 21 points. Magnus Samuelsson was next, at 14 points, and he was followed by Raimonds Bergmanis at 13 points and Svend Karlsen at 9 points.

Before the events started today, Magnus Samuelsson had said, "I can't remember a tougher contest," given that there were 11 events in the qualifier and before the day's competition had started, five more events already completed in the finals. "This is the contest everyone wants to win," said Samuelsson, so you can believe the competitors were going to be giving it their all.

All of these scores are unofficial and be sure to watch the TV shows (on ESPN and BBC around Christmas) for the details, but when the dust had settled after the Truck Pull, Savickas had moved up to 29 points, followed by Virastiuk at 28 and Pudzianowski at 24. Samuelsson, with a huge win, was now up to 20 points, followed by Bergmanis at 15. Karlsen, who had injured his leg in the qualifiers, pulled out today, to avoid further injury.