World's Strongest Man: Terry Hollands Is In
Terry Hollands' season was off to a roaring start before a torn biceps put the brakes on his rush toward a top finish a the 2010 World's Strongest Man contest, but before you count him out, guess who's going to be competing in Sun City after all?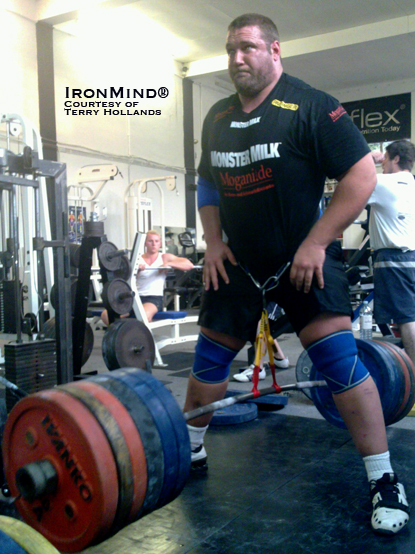 Despite tearing a biceps earlier this year, Terry Hollands will be competing at WSM 2010. Here, Terry is shown down a 405-kg hip belt squat/hip lift. IronMind® | Photo courtesy of Terry Hollands.


"I would let you know I will be fit to compete at WSM (World's Strongest Man)," Terry Hollands reported to IronMind®'s Randall Strossen today, with an announcement that will be widely cheered by strongman fans. "Although I won't be at full strength, I will be there and giving it everything I have as usual," said the man known for having a heart as big as the rest of his body.

"My arm is progressing very well and last week [I] started back deadlifting and pressing. Although I know my chances of winning this year have probably gone, I am still going with the intention of making the final. 
I continued to train through all my recovery as much as I could and I am hoping this will help me get back to full strength quickly."



Want to talk strength? Join the IronMind® Forum!

You can also follow IronMind® on Twitter.