World's Strongest Man Super Series: Mohegan Sun 2007 . . . Mohegan Sun 2008
Here it is, the recent past and the rapidly-approaching future, and both involve the strong partnership between the Mohegan Sun and the World's Strongest Man Super Series.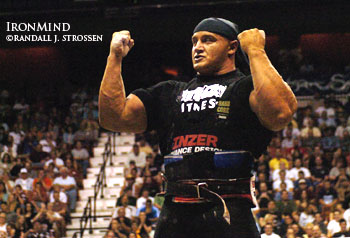 Polish Pulling Power: Now four-time World's Strongest Man winner, Mariusz Pudzianowski packs in Polish Power fans at Mohegan Sun's Arena, a world class facility that WSMSS Managing Director Jesper Albansson told IronMind, "shows where the sport is headed." Watch for WSMSS to return to the Mohegan Sun Arena on January 19, 2008. Randall J. Strossen, Ph.D. photo.

Jesper Albansson, Managing Director of World's Strongest Man Super Series (WSMSS), told IronMind that FSN will be airing the 2007 WSMSS Mohegan Sun Grand Prix next Tuesday, October 9, so check your local listings for the exact time in your area.

"The Mohegan Sun is the first Grand Prix of the 2007 WSMSS tour, where the athletes competed for a spot in the 2007 World's Strongest Man contest," Albansson said, so this is a unique opportunity to see where the journey to WSM '07 began. "Expect an action-packed show," Albansson added.

And with such a solid past, look for even more in the future, because Albansson also told IronMind, "We are very happy to have established such a good relationship with the Mohegan Sun and all of the people who work there. After this, our third consecutive year at the Mohegan Sun, the Arena and the other facilities have become one of the cornerstones of the Super Series. We know that both the athletes and crowd love coming there and they jointly create a fantastic atmosphere.

That is one of the reasons we are coming back already on the 19th of January, 2008, and this time, on prime time, on a Saturday!"

Tickets will go on sale shortly, Albansson said, so stay tuned for the announcement.