World's Strongest Man Super Series
In a much anticipated announcement, TWI and World Class Events have reached an agreement to re-launch the Super Series, beginning with the 2005 Arnold Expo, and the new contests will "become part of the qualifying vehicle for The World's Strongest Man from 2005 onwards."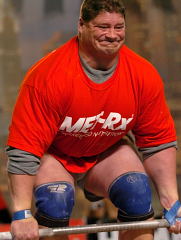 UNLV strength coach Mark Philippi, the face of strength, on his way to winning the Hummer Deadlift at the 2004 Arnold strongman contest (Columbus, Ohio). IronMind® | Randall J. Strossen, Ph.D. photo.

This new alliance brings together the three most potent names and events on the professional strongman circuit: the World's Strongest Man contest, the Super Series, and the Arnold, and it represents a landmark coalition in the sport.

Graham Fry, TWI Director of Programming and Production said, "For the first time there will be a structured calendar of events leading up to The World's Strongest Man in the Autumn of 2005. This is good news for the sport of strongman and TWI are delighted to be part of it."

World Class Events founder, Ulf Bengtsson, who has built up the Super Series concept in recent years, expressed his pleasure in the freshly-minted partnership with TWI and the Arnold: "This is a move forward for the strongman sport and will bring it the attention that it deserves."

Already seen as one of the absolute top strongman contests in the world, the 2005 Arnold strongman event was started by Terry Todd, Ph.D. as a truly heavy test of strength, and it has been immensely popular among both the competitors and the fans; and Jim Lorimer, Director of the Arnold Classic Weekend, left no doubt about his satisfaction with this new alliance: "Arnold and I are very happy that our contest will serve as the kickoff event in the newly-created World's Strongest Man Super Series on ESPN."

For contest details and information on tickets, please check the official Arnold Expo web site.