World's Strongest Man Qualifiers: Poundstone Breaks World Record
Long Beach–With the Queen Mary in the background, the qualifying rounds of the 2012 MET-Rx World's Strongest Man contest continued today with Derek Poundstone putting an exclamation point on the day's performances when he broke the world record on the Giant Dumbbell press for reps.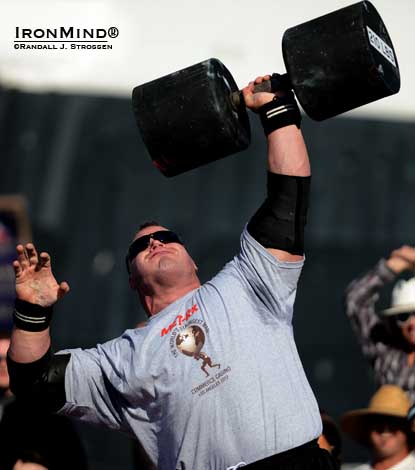 Derek Poundstone hit 11 reps in the Giant Dumbbell press, for a new world record at the 2012 Met-Rx World's Strongest Man contest today. IronMind® | Randall J. Strossen photo.


Coming into the Giant Dumbbell press, IronMind asked three-time World's Strongest Man winner Bill Kazmaier who he saw as the favorites and he immediately said, "Zydrunas and Poundstone are in the same heat," naming the two men most would agree were pre-event favorites. Pressed to comment further, Kazmaier talked about "Poundstone's mastery of the event," citing both the physical and psychological demands of the discipline.

Kazmaier's comments proved prophetic as Poundstone, switching his overhead arm partway through the series, knocked off 11 reps—two more than the old world record.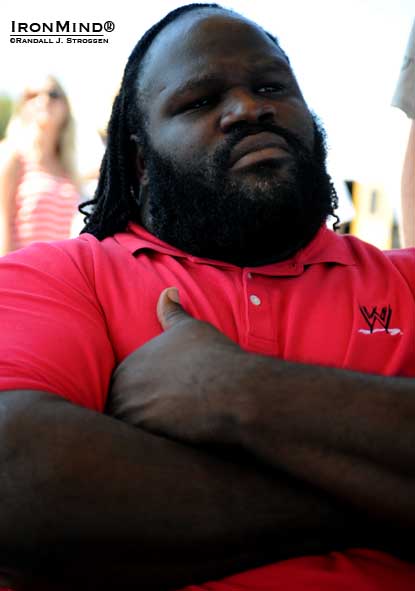 WWE star Mark Henry was on the set at the World's Strongest Man again today, looking for possible professional wrestling talent and showing his support for strongman. IronMind® | Randall J. Strossen photo.

###


Visit the IronMind Forum: talk strength, discuss this story. Strongman, grip, Highland Games, Olympic lifting, stones and more.

You can also follow IronMind on Twitter.