"World's Strongest Man - It's the Contest Everybody Wants To Win"
Magnus Samuelsson wasted no time and hid in no corners when asked about the idea of the top three strongmen from the IFSA World Championships competing against the top three finishers from the World's Strongest Man contest.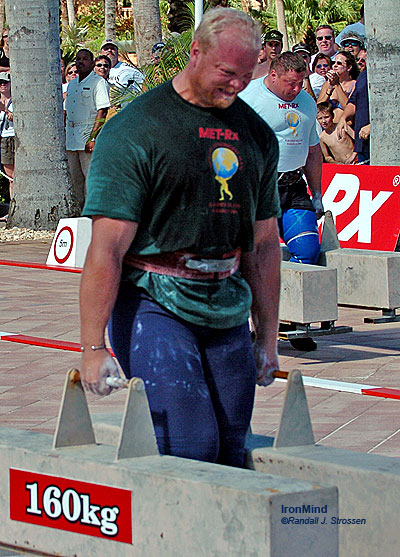 Magnus Samuelsson, and Zydrunas Savickas, in the farmers walk portion of the opening day medley at the 2004 MET-Rx World's Strongest Man contest. IronMind® | Randall J. Strossen, Ph.D. photo.
"Why don't they come to World's Strongest Man if they are so good? World's Strongest Man is the contest everybody wants to win," Samuelsson told IronMind®.

Samuelsson explained that he found it interesting that "after IFSA first tried to get people away from World's Strongest Man, now they want unification . . . it is because it is not working and they realize that they have no future."

Samuelsson said that the IFSA approach - the same events over and over again, with an emphasis on just brute strength, is not in the tradition of the great strongman contests: "World's Strongest Man has always tested a combination of speed, strength and endurance," said Samuelsson.