World's Strongest Man Finals: The Squat
Paradise Island, Bahamas - The second day of the World's Strongest Man contest kicked off with the squat today.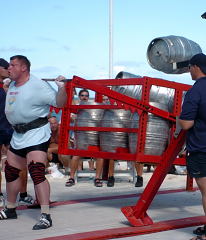 Zydrunas Savickas blasts up the barrels in the squat. IronMind® | Randall J. Strossen, Ph.D. photo.

The squat event featured a ramp that dropped barrels into the cage on the squat machine, adding weight as the lifter succeeded with each rep. Starting weight was announced as 600 pounds and there were a total of six additional barrels that could be added, each said to weigh about 15 or 20 kg.

The competitors included mighty squatter Zydrunas Savickas, who has dominated this event in the past by being the only guy to squat with all six additional barrels.