World's Strongest Man Finals: Medley
Paradise Island, Bahamas - The 2004 World's Strongest Man Finals began today.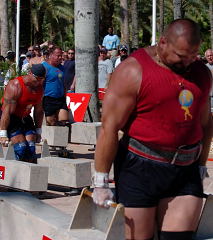 Mariusz Pudzianowski, Raimonds Bergmanis and Vasyl Virastiuk battling it out in the medley. IronMind® | Randall J. Strossen, Ph.D. photo.
The action started with a medley that involved carrying a 100-kg anchor-like implement 25 meters, running back, and then doing a farmer's walk back down the course with 160-kg implements in each hand.

Based in part on performances in the qualifying rounds, many insiders are giving Vasyl Virastiuk the nod as the favorite, followed by Mariusz Pudzianowski and then Zadrunas Savickas, but time will tell.