World's Strongest Man DVDs
How many times have you asked for World's Strongest Man videos?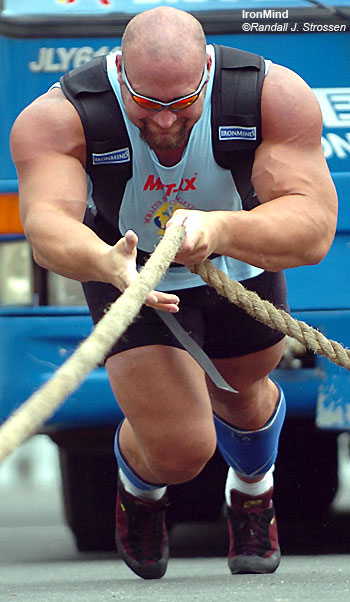 Don Pope hammered out a podium finish at the 2006 MET-Rx World's Strongest Man contest . . . Pretty soon, you could have the chance to buy an official DVD of the contest. IronMind® | Randall J. Strossen, Ph.D. photo.

Not quick and dirty bootleg jobs, but legitimate professional versions of the mother of all strongman contests . . . want to see everyone from Bruce Wilhelm to Bill Kazmaier to Jon Pall to Magnus Ver to Mariusz to Phil Pfister?

TWI has just told IronMind® that, in fact, they will be exploring this possibility and an upcoming feature on the official World's Strongest Man website will ask just how much you - the hardcore World's Strongest Man fan - would like these and which years you would most prefer.

Watch the official World's Strongest Man website for this announcement and once it goes live, this column will also have an announcement.