World's Strongest Man 2012: Who, When and Where
Today it became official as IMG announced that the 2012 World's Strongest Man contest would be in Los Angeles, with the dates being September 24 to October 1.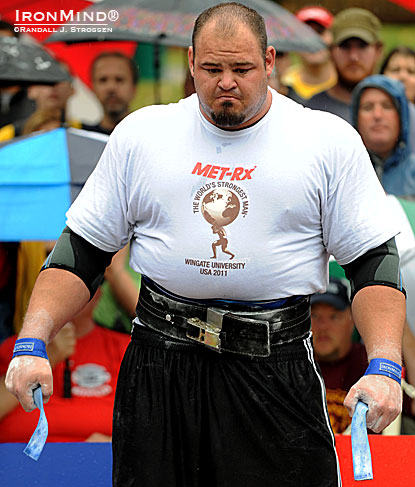 Brian Shaw, winner of World's Strongest Man 2011, will be in Los Angeles to defend his title next month. IronMind® | Randall J. Strossen photo.


How about the competitors? Nothing official, yet, from IMG on who has been invited, let alone the structure of the qualifying groups, but by piecing things together, here is IronMind's best guess at the starting field for World's Strongest Man 2012:

Johannes Arsjo
Mateusz Baron

Nick Best

Hafthor Julius Bjornsson
Mike Burke
J-F Caron
James Fennelly

Chris Gearing

Ed Hall

Ole Martin Hansen

Graham Hicks

Terry Hollands

Mike Jenkins

Ervin Katona
Misha Koklyaev
Sebastian Kurek

L.P. Jean

Vytautas Lalas
Eben Le Roux
Jack McIntosh

Alex Moonen

Akos Nagy

Lauri Nami

Derek Poundstone

Krzysztof Radzikowski
Zydrunas Savickas
Frankie Scheun

Brian Shaw
Josh Thigpen
Martin Wildaeur

We're sure when the official start list will be released for WSM 2012, but most likely in the coming days—in the meantime, maybe treat this as a possible starting point.

###

The IronMind Forum: discuss this article, talk strength, get help with your training.

You can also follow IronMind on Twitter.