World of Grip at the World Alternative Games
Yesterday, David Horne brought his World of Grip competition to the World Alternative Games in Llanwrtyd Wells, Wales— a17-day celebration of the weird and whacky, that includes everything from "from Bog snorkeling to Toe wrestling, and Wife carrying to Man versus Horse," explained Horne.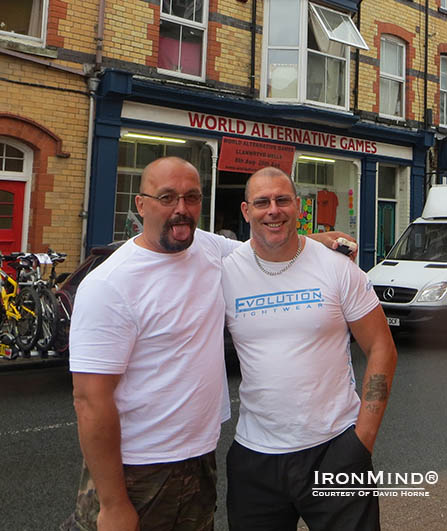 Steve Gardener (left) and David Horne (right) at the World Alternative Games in Llanwrtyd Wells, Wales. IronMind® | Photo courtesy of David Horne


"It was a very long day for us, with a six-hour round trip of driving, and of course, all the reffing, setting up, etc. involved.
"But it was great to meet some truly great characters in the town, and of course highlight the sport of grip to the uninitiated.
"The first-timers were all up for the sport, and running the events as holds, kept it quick and easy to follow. Powerlifter Carl Rogers won this, from local 'Russian' Dmitri Tserenia, and strongman Shay Gosling third. Carl and Shay, both from South Wales, also competed in the Pro section and came second and third to Steve Gardener. Steve broke two world records (120k+), and Jerome Bloom broke three (66k class) records also. Elizabeth Horne won the women's class, with Judith Thomas of Wales second, and Sara Galvao of Portugal third," said Horne.

For full results, please visit David Horne's World of Grip.

###


Want to talk strength? Join the IronMind Forum.

You can also follow IronMind on Twitter and on Facebook.