World Weightlifting Championships: Long Qingquan Wins the 56-kg Category
Seoul, Korea - The men's 56-kg category at the World Weightlifting Championships set the stage for a dual between Chinese teammate Long Qingquan and Wu Jingiao.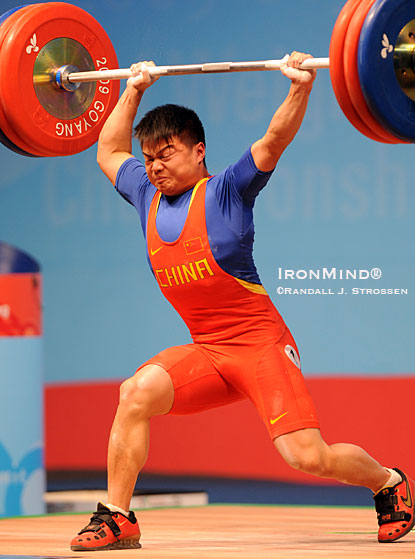 Long Qingquan missed the jerk on this 169-kg attempt - had he made it, the lift would have been good for one senior and two junior world records. IronMind® | Randall J. Strossen photo.


Wu is the 2009 Junior world champion and Long is the 2008 Olympic gold medalist, so both lifters came into the contest with weighty credentials. In the recent Chinese National Championships, Long, who won, hit 133/169 for a 302-kg total, while Wu, who placed third, made 133/163 for a 293-kg total.

Both lifters made 125 kg on their opening snatch, and when Long made 130 kg on his second attempt, Wu, who was heavier, called 131 kg to go ahead. He missed the lift, repeated and made it, so then Long took 132 kg to recapture the lead - but he missed it.

Wu is not considered to be the powerhouse in the clean and jerk that Long is, and he had to settle for 155 kg. Long, victory secure, ended the evening with a 169-kg attempt, with a lot of glory awaiting a success: a good lift would give him the senior world record in the jerk, as well as the junior world record in both the jerk and the total. Long cleaned the weight, rammed the bar overhead, but he didn't quite fix it, his right arm buckled and the weight crashed down.

Sergio Alvarez (Cuba) got the bronze in the total with a 120-kg snatch and a 154-kg clean and jerk.