World Weightlifting Championships Drawing Near
The 2011 World Weightlifting Championships open in Paris in a couple of weeks and the competition should be rip roaring as lifters jockey for top honors and countries earn their slots for the 2012 Olympics.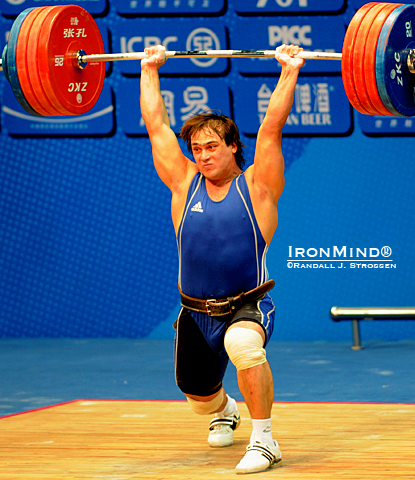 Shown jerking 219 kg at the 2010 Asian Games, defending 94-kg Olympic champion Ilya Ilin (Kazakhstan) has barely been seen on international platforms since his victory in Beijing. A lot of eyes will on Ilin when he hits the stage in Paris, competing at the World Weightlifting Championships. IronMind® | Randall J. Strossen photo.


It's the only Olympic sport that uses a barbell directly—it's often called Olympic lifting in the USA and weightlifting in the rest of the world, but whatever its name, the sport that's built around the snatch, and the clean and jerk is considered a supreme test of strength and is exciting to watch.

The 2012 World Weightlifting Championships will be held at Disneyland Paris, with the nine days of competition starting on November 5.

###

The IronMind Forum: discuss this article, talk strength, get help with your training.

You can also follow IronMind on Twitter.