World Weightlifting Championships: Ding Wins 62s, but Irawan Surprises
Seoul, Korea - On paper, the gold and silver medals in the men's 62-kg class at the World Weightlifting Championships seemed certain to be going to China.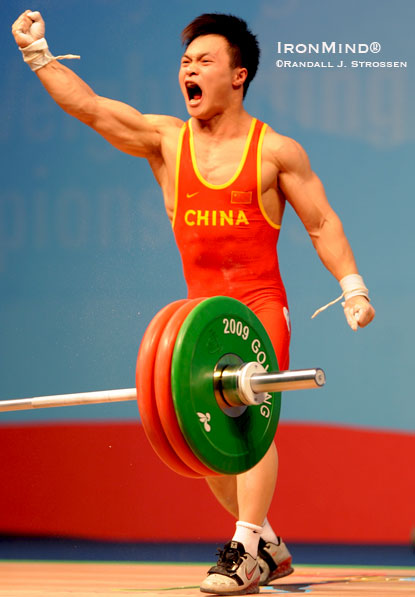 Ding Jianjun (China) celebrates his gold medal 146-kg snatch in the men's 62-kg class at the World Weightlifting Championships. IronMind® | Randall J. Strossen photo.


After all, China had entered two lifters, the best of their recent national championships, where 10 lifters had totaled over 300 kg.

Below the Chinese lifters, Ding Jianjun and Yang Fan, a big gap was expected and then a fierce battle for the bronze. What happened, though, was that Eko Irawan (Indonesia) showed that what's most likely on paper isn't always the way things turn out.

Irawan snatched 135 kg, 140 kg and missed 143, so he went into the clean and jerk within range of the two Chinese lifters: Ding had run through 138 kg, 143 kg and 146 kg in the snatch; Yang had made 140 kg and 144 kg, before missing 146 kg.

Fortunes changed in the clean and jerk, where the performance of Yang Sheng-Hsiung (Tapei) in the B session would soon be felt.

Irawan opened with 166 kg, for a good lift, and both Chinese lifters made 170 kg on their first attempts. Irawan hit 171 kg on his second attempt and then both Chinese lifters missed 175 kg . . . twice as it turned out, with Irawan's strong success sandwiched in between their misses.

Yang's 170 kg from B session would be good enough for the silver medal in the jerk, as he edged both Chinese competitors on bodyweight.