World Strongman Super Series: Revised Broadcast Schedule
"The 2008 Super Series Mohegan Sun Grand Prix will lead the 2009 World Strongman Super Series tomorrow night (not tonight) and will continue on Monday," Odd Haugen told IronMind® today, so please note the schedule change and get ready to watch Derek Poundstone take on Mariusz Pudzianowski as part of the top strongman action on Versus.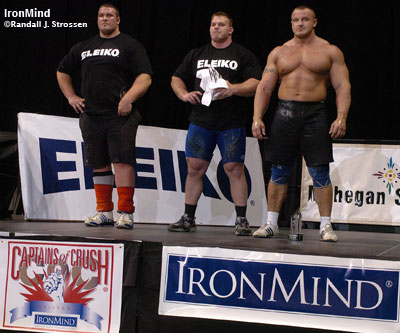 Coming into the 2008 Mohegan Sun Grand Prix, Derek Poundstone had said that he was the man to beat Mariusz Pudzianowski, but not many people believed him. Time would prove Poundstone right, as he won; Pudzianowski was second and Terry Hollands was third. IronMind® | Randall J. Strossen photo.

Here is the revised schedule:
December 17, 2009 5:00 p.m. - 6:00 p.m. Mohegan Sun Grand Prix (Connecticut, USA)

December 21, 2009 6:00 p.m. - 7:00 p.m. Bucharest Grand Prix (Bucharest, Romania)

December 23, 2009 6:00 p.m. - 7:00 p.m. Venice Beach Grand Prix (California, USA)

December 30, 2009 6:00 p.m. - 7:00 p.m. World Final (Gothenburg, Sweden)

The official Versus website has a trailer and full schedule details.