World Strongman Super Series: Change in Muscle Beach Lineup
There has been a change in the lineup for the World Strongman Super Series contest at Muscle Beach (Venice, California), and IronMind® has the revised, official start list.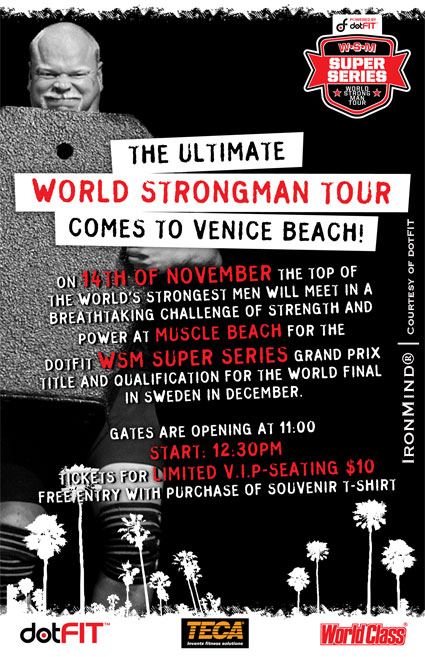 dotFIT is sponsoring the World Strongman Super Series contest at Muscle Beach, featuring marquee names in strongman. IronMind® | Artwork courtesy of dotFIT.


Drawing from the top tier of the international strongman circuit, the World Strongman Super Series is bringing athletes from across Europe and the USA to Venice, California on November 14.

Here is the official start list:

1. Brian Shaw - USA
2. Nick Best - USA
3. Marshall White - USA
4. Dave Ostlund - USA
5. Jason Bergmann - USA
6. Terry Hollands - UK
7. Krzysztof Radzikowski - Poland
8. Johannes Arsjo - Sweden
9. Jarek Dymek - Poland
10. Stojan Todorchev - Bulgaria
11. Stefan Solvi Petursson - Iceland
12. Jimmy Marku - UK

Since this is an Odd Haugen strongman contest, it should go without saying that besides featuring top competitors, the events in this contest will be heavy. Haugen is president and chief operating officer of dotFIT, which is the contest's main sponsor.

According to its press release, dotFIT, which was "founded in 2008 by a seasoned team of leading fitness industry visionaries, is rapidly becoming the leader in personalized holistic health and fitness solutions." Top strongman Brian Shaw is among the athletes sponsored by dotFIT.