World Strongman Super Series: 2010 Mohegan Sun Grand Prix
The official start list and event schedule has been released for the 2010 World Strongman Super Series Mohegan Sun Grand Prix, a package that combines a premier strongman contest with a premier setting.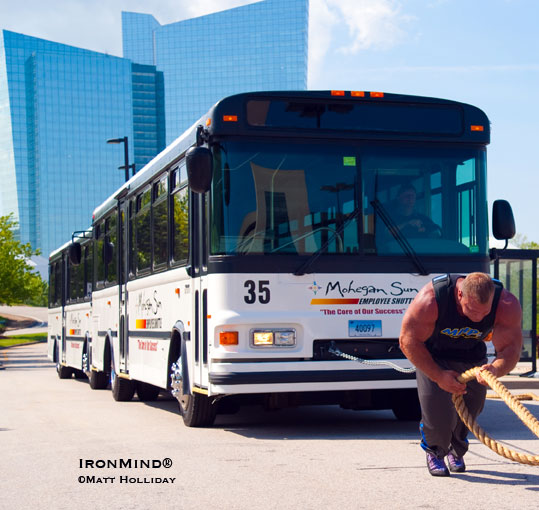 Derek Poundstone, a local cop and one of the world's top professional strongman competitors, has a perfect record at the Mohegan Sun, but that doesn't mean he can coast to another victory this year. IronMind® | Matt Holliday photo.


The field includes some of the top names on the professional strongman circuit, including eight World's Strongest Man competitors:

David Ostlund
Jason Bergmann
Stojan Todorchev
Brian Shaw
Nicholas Best
Marshall White
Derek Poundstone
Johannes Arsjo
Louis-Philippe Jean
Mark Felix
Krzysztof Radzikowski
Justin Warren

Since Odd Haugen is head of the competition committee, one wouldn't expect this to be a series of foot races with featherlight weights—heavy is to be expected and heavy is what's on the board:

1. Farmer's Walk: 170 kg/hand for 30 meters
2. Overhead Lifting Medley: Giant Circus Dumbbell, 125-kg Aluminum Block, 150-kg Log, 166-kg Apollon's Axle
3. Shield Carry: 180 kg for maximum distance on a 30-meter course
4. Super Yoke: 422 kg for 30 meters

At this point, the field will be cut to the top 6 competitors, who will go on to the final two events:

5. Deadlift Power Medley: 320-kg Apollon's Axle, 400-kg steel frame and then a 362.5-kg standard barbell for reps. Straps may only be used on the standard barbell.
6. Atlas Stones: 5 stones (128 - 215 kg) loaded on circular series of pedestals

Derek Poundstone has a 2-0 record at the Mohegan Sun and he's a local cop, so he has plenty of momentum coming into the contest.

"This is Derek's home turf," Haugen said when IronMind® asked how he saw the contest shaping up, "but nobody is coming here for second place." Poundstone, Shaw and Bergmann are Haugen's top picks for the podium, but he was also quick to recognize the foot speed of Todorchev and the overhead power of Radzikowski.

The contest is at the Mohegan Sun on April 25 at 4:00 p.m.