World Strongman Federation: Top Strongmen Competing in Khanty-Mansiysk, Russia
World Strongman Federation founder and president Vlad Redkin told IronMind® today, "We plan the final WSF [World Strongman Federation] World Cup competition on 13 December in Khanty-Mansiysk, Russia."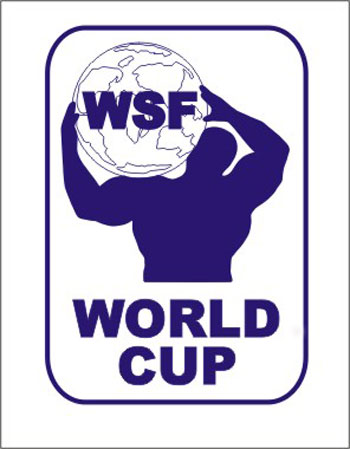 Vlad Redkin's World Strongman Federation has its season finale set for December 13, with 20,000 euros and a big title on the line. IronMind® | Artwork courtesy of Vlad Redkin/World Strongman Federation.

Once again, the World Strongman Federation will be featuring some of the top names on the professional strongman circuit:

1. Mariusz Pudzianowski (Poland)
2. Elbrus Nigmatullin (Russia)
3. Tarmo Mitt (Estonia)
4. Dave Ostlund (USA)
5. Janne Virtanen (Finland)
6. Stojan Todorchev (Bulgaria)
7. Rolands Gulbis (Latvia)
8. Vladimir Muravlev (Ukraine)
9. Louis-Philippe Jean (Canada)
10. Dmitry Kononets (Russia)
11. Sergej Rjumin (Belarus)

In addition, three more competitors are to be named, Redkin said, with one coming from Europe, one from Iran and one from Russia.

Here is the list of events:

1. Farmer's walk: 2 x 140 kg, 50 meters for time
2. Log lift: 140 kg for reps/truck pull: 25 meters
3. Deadlift hold: car, for time
4. Medley: duck walk (200 kg for 20 meters) + tires flips (380 kg, 6 flips)
5. Conan's wheel: 380 kg
6. Atlas stones: 120 kg - 180 kg

Also worthy of note is the location for this competition as it will be held in the new tennis center that was dedicated on September 24 in Khanty-Mansiysk (administrative center of Khanty-Mansi Autononomous Okrug): a nearly 16,000 square meter (over 140,000 square feet) facility that features seven tennis courts, and seating for 3,500 spectators around the center court.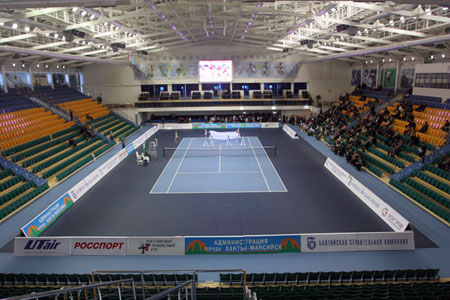 This state-of-the-art tennis center in Khanty-Mansiysk, Russia will be hosting the World Strongman Federation World Cup finale. IronMind® | Image courtesy of Vlad Redkin.

Prize money for this World Strongman Federation competition is 20,000 euros, said Vlad.

Here are the cumulative points for the top four competitors thus far in the 2007 - 2008 WSF World Cup season (ten contests):

1. Elbrus Nigmatullin (Russia) - 43 points
2. Stojan Todorchev (Bulgaria) - 41 points
3. Mariusz Pudzianowski (Poland) - 40 points
4. Tarmo Mitt (Estonia) - 35 points

"We plan to broadcast this contest worldwide on Eurosport!" said Redkin. And as far as a prediction goes, Redkin told IronMind®: "The fighting [battle] will be great of course - Mariusz, Janne, Elbrus, Dave or Tarmo?!"