World Strongman Federation Final Postponed
"Unfortunately the world crisis has reached sports and I am compelled to cancel and transfer the tournament to the next year," Vlad Redkin told IronMind® today, referring to the World Strongman Federation scheduled to be held in Russia next month.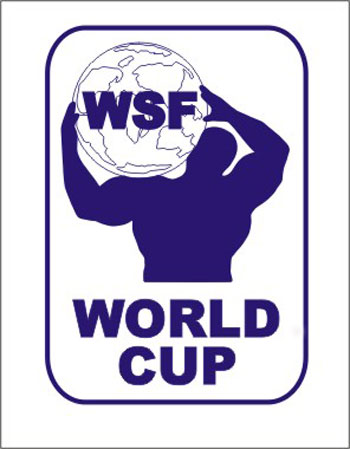 The World Strongman Federation competition planned for Khanty-Mansiysk, Russia has been postponed. IronMind® | Logo courtesy of Vlad Redkin.

Expressing both his disappointment and his apologies, World Strongman Federation founder Vlad Redkin said despite this change in schedule, "We continue to work and we plan 6 - 10 stages in 2009 with worthy prize money."

Scheduled for December 13, this World Strongman Federation competition featured some of the top names in the strongman world, including Mariusz Pudzianowski, Janne Virtanen, and Magnus Samuelsson (all of whom have won the World's Strongest Man contest), Dave Ostlund (third place in the 2008 World's Strongest Man contest), and such seasoned competitors as Tarmo Mitt and rising stars such as Louis-Philippe Jean.

According to a letter from Vladimir Karpov, Vice President of the Federation of the Strongest Athletes of Russia, "Sport committee of HMAO-JUGRA has notified FSAR and WSF that financing of carrying out of cup-final WSF cannot be provided in full volume because of financial problems in district. Therefore, planned on 13.12.2008 WSF World Cup is cancelled. Ask to concern it with understanding and to apologize before athletes. But carrying out of strongmen competitions on 2009 and 2010 years, remains in force."