World Strongman Federation: Final Points from Belarus
IronMind® has just received the final places and points from the World Strongman Federation competition held in Minsk, Belarus.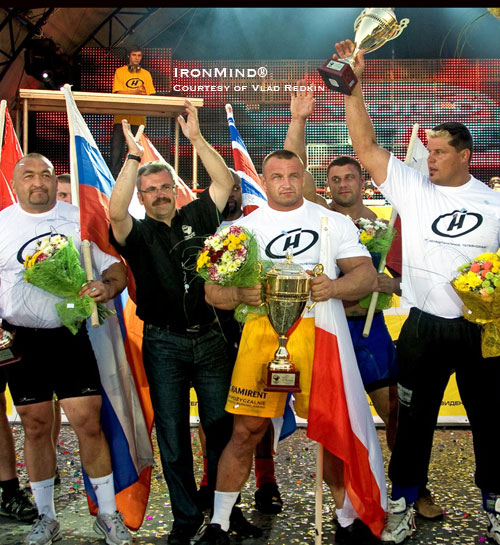 World Strongman Federation's Vlad Redkin (center) is coming off another successful strongman competition - this latest one being held in Minsk, Belarus on July 4. Belarus celebrated its Independence Day on July 3, and when the contest was held, "Team USA got a lot of support on our Independence Day!" Brian Shaw told IronMind®. IronMind® | Photo courtesy of Vlad Redkin.

Here are the official final results:

1. Elbrus Nigmatullin, 56 points
2. Jason Bergmann, 51
3. Brian Shaw, 42
4. Dmitry Kononec, 40
5. Mikhail Sidorichev, 38
6. Laurence Shahlaie, 31
7. Matt Wanat, 22
8. Sergej Rjumin, 22
9. Jim Glassman, 18
10. Alex Lapirev, 10

Total team points:

Union, 166 points
USA, 164